Edmonds CC instructors leading the field of digital forensics with CSFA certification
05/27/15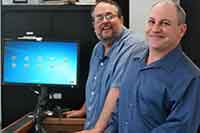 From left: Steve Hailey and Mike Andrew.
Ten years ago, Edmonds College instructors Steve Hailey and Mike Andrew created the CyberSecurity Forensic Analyst (CSFA) certification to fill the need for a competency-based certification in the field of digital forensics.
In a recently published report by Foote Research Group, a well-known IT industry benchmark research and advisory firm, the CSFA certification tied for third place worldwide for a certification earning the highest pay premiums in 2014. This was out of 357 professional certifications.
In addition, the CSFA was named one of 2015's top ten certifications to have by channelinsider.com.
"I chose Edmonds CC's Information Security and Digital Forensics program for its reputation, quality of instructors, and hands-on approach to applying essential concepts to real world situations," said Edmonds CC student Elizabeth Houser.
"The CSFA certification is increasingly recognized within the IT industry as a reputable benchmark for effective digital forensic training, which is proof that the knowledge and techniques taught in the program are not only sought after, but capable of producing the results necessary to perform in the field."
The CSFA certification exam is an intense, three-day proctored exam where the certification candidates process a digital forensics case from start to finish and submit a comprehensive report on their findings.
Depending on the scenario the candidate receives, they may also need to create affidavits, declarations, search warrants, and/or assist with the creation of verbiage for subpoenas and motions in order to obtain additional items related to the case.
"I started my own business with a couple others and the training I took at Edmonds CC accompanied by the CSFA certification gave us credibility," said Greg Wisdom, Edmonds CC alumnus and co-owner of Defsec Solutions. "The CSFA gave me knowledge, credibility, and hands-on experience to be successful."
The CSFA exam is held at Edmonds CC a few times a year with certification candidates travelling from abroad to sit for it. Edmonds CC students working towards the Information Security and Digital Forensics ATA Degree or the Digital Forensics Certificate have the $750.00 examination fee waived.
Hailey and Andrew are instructors for Edmonds CC's Science, Technology, Engineering and Math (STEM) Division, and also instruct the PACE-IT Program's Ethical Hacker Certificate curriculum. Both are internationally recognized experts in the field of information security and digital forensics, and are Cyberterrorism Subject Matter Experts for the U.S. Department of Homeland Security, Cyberterrorism Defense Initiative.
For more information go to:
csfacert.com and
TOP