Edmonds CC baseball pitcher Alec Kisena selected by Detroit Tigers in MLB 2015 draft
07/09/15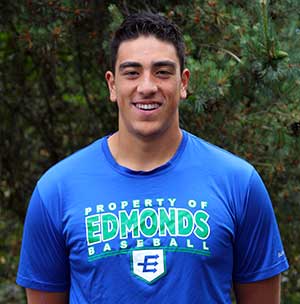 Alec Kisena
Alec Kisena, Edmonds College pitcher, was selected by the Detroit Tigers in the 16th round as the 490th overall pick in the 2015 Major League Baseball (MLB) draft.
Weighing in at 250 pounds, Kisena stands 6 feet and 5 inches tall, is a right-hander, and is a 2013 graduate of Jackson High School. He appeared in 11 games for Edmonds CC this spring and ended with a 6-3 record. In 75 innings, he allowed 48 hits, struck out 82, and accumulated a 2.27 ERA.
He started playing at the age of four for the YMCA. Growing up, his role models were his father who played softball and Pedro Martinez.
Kisena has experience at first base but moved his focus to pitcher his sophomore year of high school. He played Junior Varsity (JV) baseball for Jackson his freshmen year. By sophomore year, he was playing JV and varsity, when Jackson took second place in the state tournament. During his junior year, he led the league in strikeouts and earned run averages.
In his second game of the season at Edmonds CC, he was leading the Northwest Athletic Conference in strikeouts.
"Everybody on the team was a family," said Kisena. "Once we bonded and started hanging out, everything just started taking care of itself."
Throughout the season at Edmonds CC, area scouts would attend each game. "There were at least two scouts at each game," said Kisena.
He was invited to and attended Seattle and St. Louis workouts; however, he was not able to make it to the workout for Detroit.
Ultimately, as he sat in his hotel room in Corvallis, OR during summer league ball, he received a text saying, "call me." When Kisena called, the Detroit Tigers informed him that they would be trying to draft him.
Kisena thanks his parents for giving him the opportunity to play; Scott Mahlum, his little league coach; JT Zink, his pitching coach who taught him how to be a pitcher and not just throw the ball; Curt Nelson, his summer coach who taught him how to be "mentally in the game" for every pitch; and Guy Kellar, his coach for the Seattle Stars.
"I would like to thank all the coaches here at Edmonds CC, and my teammates for going through this journey together," said Kisena.
What does Kisena see for the future? "The big leagues and working toward trying to be the best."
TOP