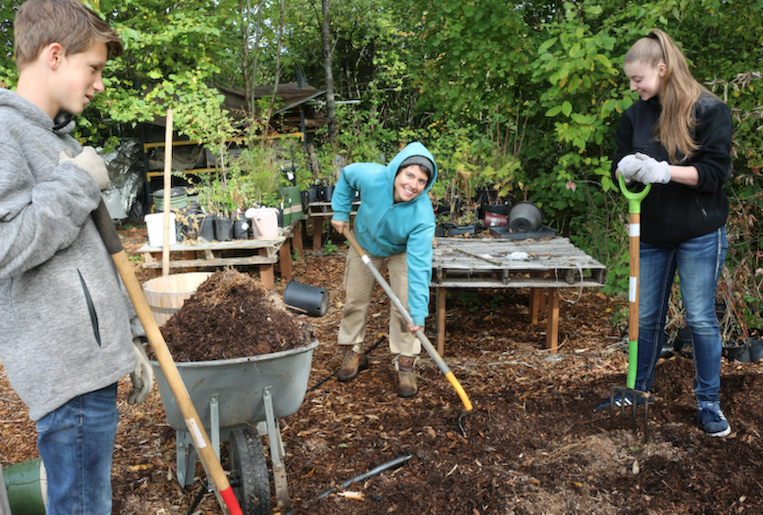 Center for Service-learning
Community Service, Instruction, and Reflection
What is service-learning?
The National Service-Learning Clearinghouse describes service-learning as "a teaching and learning strategy that integrates meaningful community service with instruction and reflection to enrich the learning experience, teach civic responsibility, and strengthen communities."
Get involved in your community, and do something fun and exciting! Our sponsored projects are a great way to make a difference in your community, meet new people, network with local community partners, build your resume, and have fun.
If you have a service-learning requirement for your classes or wish to volunteer in the community, go to our Service-Learning Project page to check out service-learning and volunteer opportunities that can be done in person or virtually.
The Center for Service-Learning at Edmonds College provides support for service-learning courses and events at the college and in the community.
We offer different projects each quarter (there are limited projects during summer quarter), and more could be added, so check back often.
---
We understand many of our students have a service-learning requirement as part of their classes. Please check with your instructor to make sure your chosen service project meets the class requirements and objectives. Your instructor may have additional requirements in place. If you have a service project idea that is not listed on our website or assigned by an instructor, please contact stewart.sinning@edmonds.edu to make sure your project meets our service learning guidelines.
Before you embark on your service-learning experience, make sure that you have received approval from the Center for Service-Learning or your instructor. We don't want you to complete service work that does not meet the guidelines of either Edmonds College Center for Service-Learning or your instructors and then not get credit for your service.
Your class may require a certain amount of service hours. Please review your instructor's class requirements and the organization's expectations and communicate with your organization prior to beginning your service to determine the exact amount of time you will need to commit to the organization. For instance, if you class requires 5 hours of service, but the organization or project you choose requires a longer commitment, your service-learning experience should not be abbreviated into a short period of time; rather, your commitment should last for the duration of the service project, in order to make the most of the experience and impact of your service.
Service-Learning Guidelines
Questions?
Please contact Stewart Sinning at 425.640.1882 or stewart.sinning@edmonds.edu or visit our contact page.
---
Support for these programs comes from the Associated Students of Edmonds College and other campus and community partners.


---
Washington Service Corps
Funded by the Washington Service Corps, our AmeriCorps member will be leading our service-learning projects that focus on environmental restoration in our community. Our AmeriCorps volunteer also supports our Green Team Student Sustainability Advocates, who are dedicated to providing education to the campus about sustainable practices.
TOP