Instructors get hands-on experience to teach East Africa class
06/12/2009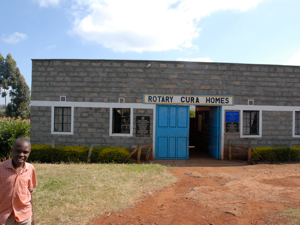 The Cura Orphanage in Nairobi is home to 50 children.
Edmonds College English instructors will visit a Kenyan orphanage this summer and then teach a composition class on current issues in East Africa. East Africa in the Modern World will be offered fall, winter, and spring quarters in 2009-2010
In June, Hayden Nichols and Greg Van Belle will work at Cura Orphanage near Nairobi. The orphanage cares for 50 children, ages 5-11, who have lost their parents to AIDS.
Cura Orphanage is a project of the Creative Visions Foundation, a nonprofit, which supports creative activists who use their talents to foster social change.
The foundation was inspired by the life of Dan Eldon, a 22-year-old Reuters photojournalist who was killed in 1993 while covering the conflict in Somalia, and founded by family members. Nichols is a family friend.
The instructors' travel to Kenya is supported by a grant from Edmonds College's International Education Division. Nichols and Van Belle will look into ways to provide Edmonds CC students with short-term study abroad and service-learning opportunities in East Africa.
This fall, they will teach an English 102, Composition class, East Africa in the Modern World. This course will explore how technology, a modern economy, health issues, and population expansion affect various East African countries. The class will be offered Tuesdays and Thursdays at 9:30-10:20 a.m. or 2:50-3:50 p.m., and includes an online component. It will be offered again winter and spring quarters.
The course aims to move beyond the popular portrayal of East Africa in western media and present an accurate picture of the varied cultures of the region. It will also provide service-learning opportunities for students so they can get hands on experience with the issues they are studying. Research topics may include: women's health, poverty, elections, international aid and natural resource conservation.
"We want to provide students with a more personal experience of contemporary East Africa and help break down some of the stereotypes," said Van Belle. "Hopefully, some of the college's students from East Africa will take the class too and contribute to our discussion."
Nichols had the opportunity to study at the University of Nairobi at age 21. She met Dan Eldon there and went on safari with Dan and his sister, Amy, and they worked together for Save the Children in Malawi.
The Dan Eldon traveling exhibit featuring his journals and photographs of war/celebrations of peace visited Edmonds College in 2003. Nichols is currently working with an interdisciplinary group of faculty to bring the exhibit back to campus in 2011. A movie about Eldon's life, "Journey," is planned for release that year. Actor Daniel Radcliffe has been attached to the film.
Find out more
TOP