In 2011, Edmonds College takes a look at Africa
12/15/2010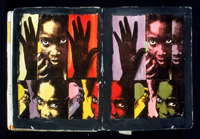 "Hands," by Dan Eldon
Upcoming at Edmonds College: classes, art exhibits, and a community read with a theme of current issues in modern Africa. Join Edmonds College in 2011 as the college explores its connections to modern Africa — the diverse people, arts, economics, and environments coming from a continent made up of 54 countries and more than 1,000 languages.
The college's focus on art and ideas from nations including Cameroon, Malawi, Somalia, and Kenya stems from the personal connections of college students and employees and from varied interests. In focusing some attention across the globe, the college acknowledges its role in international education as it prepares students to take their place in a global workforce.
Take an English composition class with the theme "East Africa in the Modern World" or study "Africa in World Politics," in a Political Science class. Attend upcoming art exhibits and lectures featuring an artist from Cameroon and an author from Malawi at Edmonds College in 2011.
--East Africa in the Modern World, English 102, meets Monday-Thursday 8:30-9:20 a.m. and online (a hybrid class). Five credits. Cost: $466.55 plus admission and fees. The theme of this English composition class is an exploration in current issues in East Africa and how technology, a modern economy, health issues, and population expansion affect the various countries in the region. The class will be offered spring quarter as well.
--Africa In World Politics, Political Science 220, meets Tuesday and Thursday 12:30-2:40 p.m. Five credits. Cost: $435 plus admission and fees. This class focuses on contemporary African politics, emphasizing regional political systems, local governance, international relationships, social issues, development, and resource management. Find out more: www.edmonds.edu/schedule
Visit the college art gallery. "Images of War and Celebrations of Peace," an exhibit of photographs and collages by Dan Eldon, a young artist and journalist killed while reporting on famine in Somalia in 1993 (he was 23) shows Jan. 10-March 18. Meet Eldon's biographer Jennifer New 12:30 p.m., Wed., Jan. 26 in the Black Box Theatre. New has published two books, "Dan Eldon: The Art of Life" and "Drawing From Life: The Journal as Art." Attend a reception for the exhibit 4-6:30 p.m., Friday, March 4 in the art gallery. An exhibit of paintings, "Therapy of Hope: Paintings by Cameroonian Artist Max Lyonga Sako" opens in April. Find out more: www.edmonds.edu/gallery
Read the Edmonds CC Community Read book, The Boy Who Harnessed the Wind by William Kamkwamba and Bryan Mealer. The book tells Kamkwamba's story. Growing up in Malawi, he battled extreme poverty and hunger. At age 14, he read a book and built a series of windmills from scratch to generate electricity. In Malawi, electricity is a luxury enjoyed by only two percent of the population Kamkwamba visits campus April 11 to speak in the Black Box Theatre.
Winter quarter classes at Edmonds College start Jan. 3. To register, go to www.edmonds.edu/getstarted. Call 425.640.1459 or email info@edmonds.edu for more information.
Did you know? An award from U.S. Department of State's Bureau of Educational and Cultural Affairs brought scholars from Cameroon, Egypt, Ghana, and Kenya to Edmonds College as part of the Northwest Community College Initiative. The students are studying fields including Business Management, Desktop Support, Project Management, Health Unit Coordinator, and Hospitality and Tourism.
Find out more
TOP