College offers Arabic intensive language program this summer
04/27/2011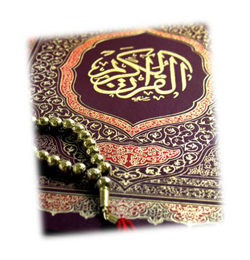 Edmonds College offers an Arabic Intensive language program this summer — the only summer intensive program offered in the state.
Students can take Arabic I, II, and III and complete their university foreign language requirement. The summer Arabic classes will meet 9-11:50 a.m., Mon.-Thurs., July 5-Aug. 26. Arabic classes will also be offered fall quarter Sept. 20-Dec. 9. Registration for summer and fall quarters starts May 24.
Why Arabic?
Consider: A protestor holds up a sign in news photos of the Middle East. In the Arabic alphabet — the second most widely used in the world — it reads, "We demand freedom!" To many, it may look like an unintelligible squiggle.
Knowing the language makes all the difference.
"With the Middle East constantly in the headlines, more people are interested in learning Arabic to gain a better sense of the region," said Edmonds College instructor Christina Fusch. "But that's just one of the benefits of learning the language."
Arabic is the most commonly spoken language throughout the Middle East and is widely spoken throughout Europe, Africa, Asia, and Indonesia. Arabic language skills can lead to job opportunities in teaching and translating. They can be an asset in jobs abroad in the military, government, and business, and in volunteer opportunities such as the Peace Corps.
"Arabic sets you apart on your resume. It shows you are up for a challenge," Fusch said. "At the same time, students will be surprised how quickly they can learn to read the language, and there are many opportunities to practice speaking Arabic with native speakers — immigrants from Egypt and Iraq — living in Snohomish County."
Fusch earned her master's degree in Religious Studies at Gonzaga University and her bachelor's in Anthropology and Near Eastern Studies at the University of Washington. She previously taught at Whitworth University and served as a consultant for Yale University Press on an Arabic text, "Ahlan wa Sahlan."
She is a native English speaker with 10 years experience in Modern Standard Arabic. Her language skills also include French, ancient Greek, biblical Hebrew, hieroglyphic Egyptian and classical Latin. She also teaches anthropology at the college.
Some students at Edmonds College have enrolled in Arabic classes as part of their religious studies — to gain a firsthand knowledge of the Quran.
Find out more
Modern Languages and Cultures at Edmonds College
TOP