Modern Languages
Become proficient in American Sign Language, French, Japanese, or Spanish.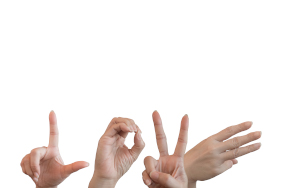 The Department of Modern Languages is diverse, with faculty and students from many different countries and cultures. We offer three levels (121, 122, 123) in each of the following languages: American Sign Language, French, Japanese, and Spanish.
Our approach is a communicative one; we emphasize proficiency in speaking, listening, reading, and writing in every course. Our courses provide you with the strong grammatical base necessary to progress beyond the elementary level.
Cultural instruction is a cornerstone of every course we teach. Bienvenue! Yokoso! Bienvenidos!
Program
*Average costs include tuition based on WA state resident full-time enrollment. It does not include fees. The costs may vary. Learn more about Tuition & Fees.
Career Opportunities
Considering enrolling at Edmonds?
Your Edmonds College advisor will work with you to choose the right path for your future career, help you register for classes, answer questions about paying for college, and more.
TOP