Anthropology instructor Thomas Murphy named Conservation Teacher of the Year
11/17/2011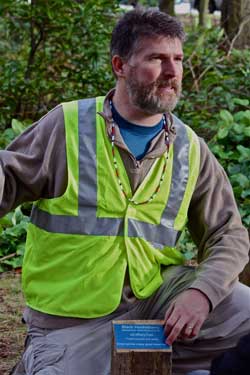 Dr. Thomas Murphy, Conservation Teacher of the Year Photo: Kerrie Murphy
Dr. Thomas W. Murphy, Chair of the Anthropology Department at Edmonds College, was selected for the Washington Association of Conservation Districts' Conservation Teacher of the Year Award.
The award recognizes a K-12, college, technical, or trade school educator in Washington State. He will now be considered for the National Association of Conservation Districts award. Murphy was honored Nov. 14 at the King Conservation District annual meeting as their Educator of the Year and will be honored November 30 at the State Conservation Commission meeting at Suncadia Lodge in Cle Elum.
Murphy founded the Learn and Serve Environmental Anthropology Field (LEAF) School in 2006 and the Center for Service-Learning in 2007 and has helped produce an annual powwow at Edmonds College for the last 12 years.
He serves as the faculty liaison for the Center for Service-Learning, which leads the college's nationally recognized service-learning program. In 2008, he received the Excellence in Education award from the college's trustees.
The LEAF School partners with tribes, governments, non-profits, businesses and educational institutions to get students involved hands-on in service-learning projects that help to make communities more sustainable. Participating students are able to earn an AmeriCorps education award while taking a series of college courses in human ecology.
Over the past six years, more than 300 students have contributed over 6,000 hours of service with dozens of community partner organizations.
Murphy's students have played key roles in a wide variety of service-learning projects, including many habitat restoration projects with both the King and Snohomish Conservation Districts. His students have designed and installed an ethnobotanical garden at the City of Lynnwood's Gold Park, made an assessment of possible sources of PBDE contamination at Bracket's Landing in Edmonds, investigated pre-spawn mortality of Coho salmon in Lund's Gulch, and monitored the return of fishers on the Olympic Peninsula.
"Students need an opportunity for high quality, meaningful hands-on educational experiences in the outdoors. These experiences can be enriched by long-lasting and effective partnerships with tribal organizations that introduce students to the traditional ecological knowledge accumulated and passed on by local indigenous communities," Murphy said.
"These partnerships make the learning real for students, as they help solve actual conservation problems through the service that they provide."
Murphy has a doctorate in anthropology from the University of Washington. As an anthropologist teaching courses in human ecology, he emphasizes the role that people play in conservation, or the lack thereof.
He particularly specializes in the creation of outdoor educational experiences drawing upon traditional ecological knowledge accumulated and passed on by local indigenous communities. He has extensive partnerships with local tribes that facilitate the involvement of elders and their traditional knowledge, skills, and pedagogy in the delivery of environmental education.
In addition, Murphy has shown leadership in mentoring other faculty in conservation education and service-learning projects.
He has hosted the Environmental Education Association of Washington's E-3 Summit representing Island and Snohomish Counties, participated in the Curriculum for the Bioregion led by the Washington Center for Improving the Quality of Undergraduate Education, and mentored other Northwest college faculty as a consultant on the Northwest Sustainability Initiative funded by Washington Campus Compact.
Serving as a principle investigator for the Watershed Education Teacher Training Program, funded by a NOAA Bay Watershed Education Training grant, Murphy has led marine based professional development workshops for 87 community partners and 233 K-12 faculty representing 141 different schools from throughout the state in the implementation of meaningful watershed education experiences for their students.
###
Center for Service-Learning at Edmonds CC | www.edmonds.edu/servicelearning
Edmonds College's nationally recognized service-learning program combines meaningful community service with instruction and reflection to enrich the learning experience and strengthen communities. Last year, 525 service-learning students provided nearly 30,000 hours of service to 57 campus and community partners.
Service-learning programs at the college include AmeriCorps Students in Service, the Learn and Serve Environmental Anthropology Field (LEAF) School, the Veterans Conservation Corps, and AmeriCorps Retention Project working with the college's LEAF School and TRiO Student Support Services and Adult Basic Education/ESL programs.
Find out more
TOP