Charles Drabkin and Culinary Arts students prepare for fancy feasts
04/24/2013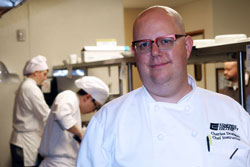 Charles Drabkin is a Culinary Arts instructor at Edmonds College.
Edmonds College instructor Charles Drabkin masterfully prepares feasts for large crowds. But he couldn't pull it off without help from his Culinary Arts students.
Drabkin, who marks his 12th year at the college this September, will oversee the Edmonds CC Foundation's Remy Wine Dinner on May 17 at Brier Hall's College Café. The event is for those who bid on the package in February during the Foundation's annual auction, which raised more than $230,000 in support of Edmonds CC.
Drabkin and Culinary Arts students prepared the meal at that event as well, which was created by chef Thierry Rautureau, Chef in the Hat™.
The May 17 dinner — tickets are still available through the Foundation — will include wine from Remy Wines in McMinnville, Ore., which just so happens to be owned by Drabkin's sister, Remy Drabkin. Charles and Remy grew up in McMinnville. "Remy wanted to be winemaker since she was very young," Drabkin said. "Five or six years ago, she started making wine commercially and not just in her laundry room."
Remy Drabkin will be at the Foundation event on campus, but the night before she will host another dinner at her winery to also benefit the Foundation. "She's committed to this school even though she's down in Oregon," her brother said.
Drabkin will be back in Oregon July 26-28 for the 27th annual International Pinot Noir Celebration at Linfield College in McMinnville. Edmonds CC Culinary Arts students have been a big part of the event for years, preparing desserts for the popular salmon bake, which at $175 per person has already sold out.
Each year, Drabkin takes eight students or alumni with him.
"The salmon bake is the fanciest event of the weekend, like the fanciest barbecue you've ever been to. It's a lot of fun." But it's work, too. The Culinary Arts team prepares dessert for about 1,000 people, creating what Drabkin calls about "10,000 little bites." They spend three busy days on the desserts, side-by-side with some of the top chefs in the region.
"They get to learn about wine and the winemaking process," Drabkin says. "And they see how high-end, fancy food can be done on an amazing scale and with amazing quality."
Find out more
TOP