College president selected to attend White House summit on strengthening college remediation
08/07/14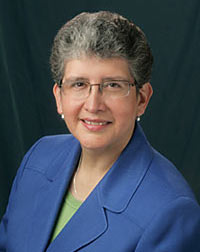 Edmonds CC President Dr. Jean Hernandez
Edmonds College President Dr. Jean Hernandez will be attending an event on Aug. 12 hosted at the White House designed to highlight new and existing commitments to strengthen college remediation.
In January, a number of community college presidents joined President Barack Obama and First Lady Michelle Obama to commit to dramatically improving success rates in remedial education.
Next week, Dr. Hernandez will be among leading practitioners, researchers, and other higher education leaders exploring effective strategies to improve success for students in need of remediation.
This event will provide an opportunity for higher education leaders to discuss their progress and the challenges they face. Such challenges include reducing the need for remediation through curricular alignment, redesigning assessment and placement, and improving developmental education design and delivery.
Dr. Hernandez will be discussing the college's current plans to expand training for faculty so that they have additional tools for engaging students, increasing resilience, and providing them with needed resources.
"We will be expanding our offering of competency based education certificates in other disciplines beyond information technology," said Dr. Hernandez.
The college also plans to expand its Integrated Basic Education and Skills Training (I-BEST) program, where English as a Second Language and precollege courses are integrated with specific professional technical programs such as nursing assistant and composites. In I-BEST courses, students' understanding increases with contextualized course-level learning objectives and shortened pathways to completion.
"At Edmonds CC, we are continually working to improve the experience of our precollege students and provide them with the tools they need to be successful at the college level," said Dr. Hernandez. "I look forward to discussing these strategies and others to improve precollege student success on a national scope."
This will be Dr. Hernandez's second visit to the White House. In April 2012, she served on a White House Panel discussing Girls in STEM. Other panel members included a NASA Astronaut and Facebook's Director of Engineering, among others.
Find out more
TOP