Edmonds CC 2015 graduate Denica McMillan leaves her mark
07/01/15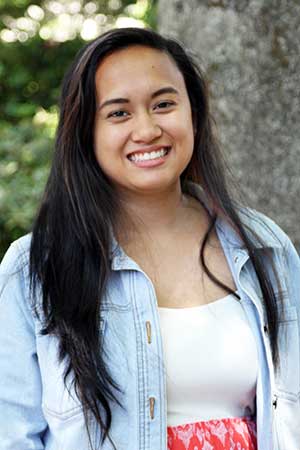 Denica McMillan
Denica McMillan, Edmonds College 2015 graduate, leaves a legacy of hard work and campus involvement through her association with domestic violence awareness, Tunnel of Intersections, and Feminism 101. She was also a Community Read scholarship recipient as well as a student speaker at the Foundation's auction earlier this year.
McMillan started at Edmonds CC in spring 2013. McMillan went to Cascade High School in Everett. She faced the adversity of being a teen mom, but has not let that get in the way of pursuing her academic dreams and achieving greatness.
McMillan's first job at Edmonds CC was in the Advising Resource Center as a Center Technician, where she gave campus tours to students and answered phone calls.
"Advising is the customer service of the school – it's the first place people go," said McMillan.
Her next role was in the Health and Wellness Center as a Wellness Peer Advocate. McMillan helped plan Domestic Violence Awareness month. She emailed campus for donations for the YWCA women's shelter, facts about domestic violence, made purple ribbons for people to wear, and helped to put on the domestic violence resource fair with informational booths.
McMillan was also involved with the Tunnel of Intersections, which consisted of several different interactive exhibits designed to express the oppression of marginalized groups.
She was involved with the creation of three rooms: domestic violence awareness, breastfeeding, and gendercide.
Her final contribution was a Feminism 101 week-long event to educate the community on the misconceptions of feminism.
"For me I see feminism as equality for all genders, while putting an emphasis on the rights of women," said McMillan. "I wanted to incorporate an event where people would learn from and enjoy."
The event consisted of a resource fair with vendors to show the organizations dedicated to helping women and families along with leaders in the community; a documentary and a panel discussion that focused on gendercide; a poster display on women's history, which showcased women and events in history; and an interactive story sharing event, where students were able to share their own stories relating to the Edmonds CC Community Read book, "You've Got it All Wrong."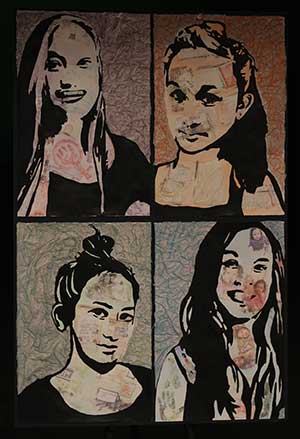 "Chameleon"

As part of the Edmonds CC Community Read, McMillan received a $1,300 scholarship covering tuition for spring quarter for her 60 inch by 40 inch self-portrait painting titled, "Chameleon," which depicts different sides of herself: a women's right advocate, a school girl, a worker, and a mother with a daughter.
"Different vignettes were centered around labels. All of us are a chameleon in the different places that we live and work — we blend in with our surroundings," said McMillan.
McMillan got the opportunity to speak about her scholarship at this year's foundation auction.
McMillan received her Associate in Arts degree and would like to pursue a double major in women's studies and communication at the University of Washington.
After school, McMillan would like to work in a global development program to help developing countries. "I would like to work with a non-profit or create my own business to help countries like India and China that are dealing with gendercide," said McMillan.
When asked what her favorite memory was from her time at Edmonds CC, McMillan replied, "Commencement. I remember thinking, 'I did it.' I am happy to be graduating but also sad as I have been here for two years — I always called this place my second home."
TOP