Edmonds CC honeybees yield honey with program collaboration
10/1/15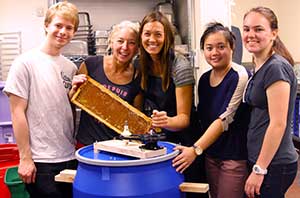 Edmonds CC students and faculty extract honey.
Edmonds College's honeybees had a fruitful summer and yielded a bumper crop of delicious honey. The honey was extracted on September 10th with some assistance from the engineering department's recent contribution of a hand-crank extractor.
"We are now in our fourth year of beekeeping at the college and I think it is now safe to say the program is a success. We love all of the partnerships that have been formed across campus as a result," said Mary Whitfield, Edmonds CC Chemistry instructor.
"We're involved in undergraduate research, with the community garden and we recently partnered with the engineering club to build an extractor."
Students built a hand crank extractor using a 3-D printer, recently acquired as a result of a deal that the Boeing Co. made with the state to execute the assembly of the future 777X jetliner in Everett. As a part of the deal, the state injected $17 million into education and training of future aerospace workers.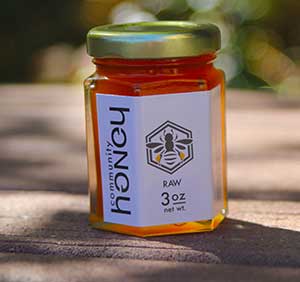 The engineering department is not the only one to get involved in assisting with the honeybees — former Edmonds CC graphic design student, Ryan Neff designed the label for the jars that are used to sell the honey.
Edmonds CC students get involved in the honey sale that takes place as a part of the campus sustainability day and learn about pricing and marketing the honey.
"Of course our annual honey sale is widely anticipated across campus and beyond, and it's been fun to get students involved in the process. They do a great job selling the product," said Whitfield.

"All of this takes place within our broader mission of promoting sustainability on campus and beyond. Bee populations are still in decline, so it's important to keep people aware of the role that honeybees and other native pollinators play in our agricultural system."
The honeybees have assisted with research projects for the college's biology department, provided service-learning opportunities, and have provided hands-on experience for students.
"Having honeybees on campus has been a rewarding experience, not only because I learned about them, but I also became part of the community and had the opportunity to conduct undergraduate research," said Jessica Pal, Edmonds CC alumna.
"Having the honeybees in our community college garden has helped me learn about the environment, bringing me closer to the community and allowing me to conduct two undergraduate research projects, for which posters were made and presented at the University of Washington Undergraduate Research Symposium in 2014 and at the Community College Undergraduate Research Initiative (CCURI) in Portland in 2015, giving me the opportunity to meet students from around the nation who came together and presented their research."
Whitfield, Edmonds CC chemistry instructor and hobbyist beekeeper, helped bring the honeybees to campus in April 2011 as part of its Earth Month celebration. The two hives are located near the college's vegetable garden.
"Bee populations are still in decline, so it's important to keep people aware of the role that honeybees and other native pollinators play in our agricultural system," said Whitfield.
"What many people don't realize is that many store-bought honeys are processed, pasteurized and even contain high fructose corn syrup," said Stephanie Bostwick, Edmonds CC Engineering Instructor and beekeeping partner.
"The health benefits of consuming raw, unprocessed honey are enormous and here at Edmonds CC we produce the real deal. Our students maintain the hives by frequently monitoring for pests and by ensuring the bees are fed in the fall."
Facts about Edmonds College's honeybees:
The honeybees may travel up to two miles in search of food.
Honey can be harvested from the hives once or twice a year; the college's hives may produce as much as 40-50 pounds of honey per hive.
The starter honeybee colonies cost $80 each and the hives and set up equipment about $400.
The honeybees come from California, where bees are seasonally in demand to pollinate the state's extensive almond crops.
Maintaining the honeybee colonies takes about an hour a week to inspect the condition of the hive and make sure the queen is laying.
Each hive has a starter colony of 10,000 bees including a queen. The colonies can produce honey in time for a fall harvest.
Honeybees travel in a swarm to move to a new location if they outgrow their hive or dislike their home. They will rest in a swarm and send scouts out to look for a new home. Bees are typically docile when swarming. Spot a swarm? Call 425.640.1272.
Find out more
TOP