SAgE student farm receives a $13,000 grant and begins farm-to-campus program
10/29/15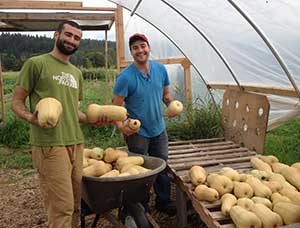 Students working at the Sammamish Valley Student Farm.
The Sustainable Agriculture Education (SAgE) Sammamish Valley Student Farm is blazing the trail by launching an innovative farm-to-campus program that will be utilizing a HUB system for delivery, in collaboration with Edmonds College's Horticulture Department. The off-campus, four-acre farm supports the SAgE Urban Agriculture curriculum at Edmonds College.
The funds from the grant recently received aim to:
establish an on-campus weekly farmer's market starting this October,

establish a wholesale relationship between Edmonds CC Food Service and Culinary Arts with the new peri-urban SAgE Student Farm in Woodinville,
create a system for using the Puget Sound Food Hub for aggregation and distribution to reduce the carbon footprint of food production, and

hire two Edmonds CC students for positions as Project Assistant and Project Manager.
The farm-to-campus program will provide several learning opportunities to students such as: organic farming practices, farm-to-market procedures, farmland conservation and preservation, environmental conservancy, sustainable transportation, food safety, and food security, access, equity, and ethics.
"The hands-on experience that this program will offer to SAgE students that are interested in growing food to sell to restaurants or at farmers markets is invaluable and will set them on a path to greater success," said Marni Swart, SAgE Collaborative Project Assistant and Edmonds CC Urban Agriculture alumna.
"It will also act as an advocacy and educational tool by increasing the visibility and knowledge of sustainable food production versus our current industrialized food system to the general student and staff population at colleges."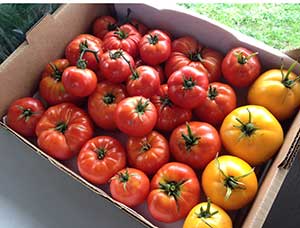 Lettuce, tomatoes, peppers, squash, onions, beets, leeks, herbs and lamb are just some examples of the delectable and local organic foods that are being grown at the farm.
In addition to produce sold, approximately 40 percent of the vegetables grown at the farm and unsold produce from the farmer's market will be donated to local food banks and community kitchens.
"Often produce that may not be picture perfect is still nutritious," said Perry Acworth, SAgE Student Farm Manager and Educator. "It is entirely edible and well worth donating to those in need." Targeted community kitchens and local outlets are the Lynnwood Food Bank, Concern for Neighbors Food Bank in Mountlake Terrace, and Food Life Line in Shoreline.
Edmonds CC food services and Culinary Arts will be reducing its carbon footprint by purchasing local produce through the Puget Sound Food Hub, which uses an environmentally friendly business model. The Puget Sound Food Hub is an aggregation and distribution organization that serves Puget Sound farmers, bringing their products to wholesale accounts using re-chargeable electric, refrigeration vehicles.
"I don't know of any community college that is using a farm to grow, deliver, and use a hub distribution system for their agriculture education," said Acworth.

2015 marks the first season that students have grown food at the SAgE Student Farm.
On-farm experience will be available to all students enrolled in the Urban Agriculture program and several classes will take place at the farm including Urban Farming and Business Planning I and II, Postharvest to Local Market Operations, and Practicum in Sustainable Agriculture.
For more information visit:
TOP