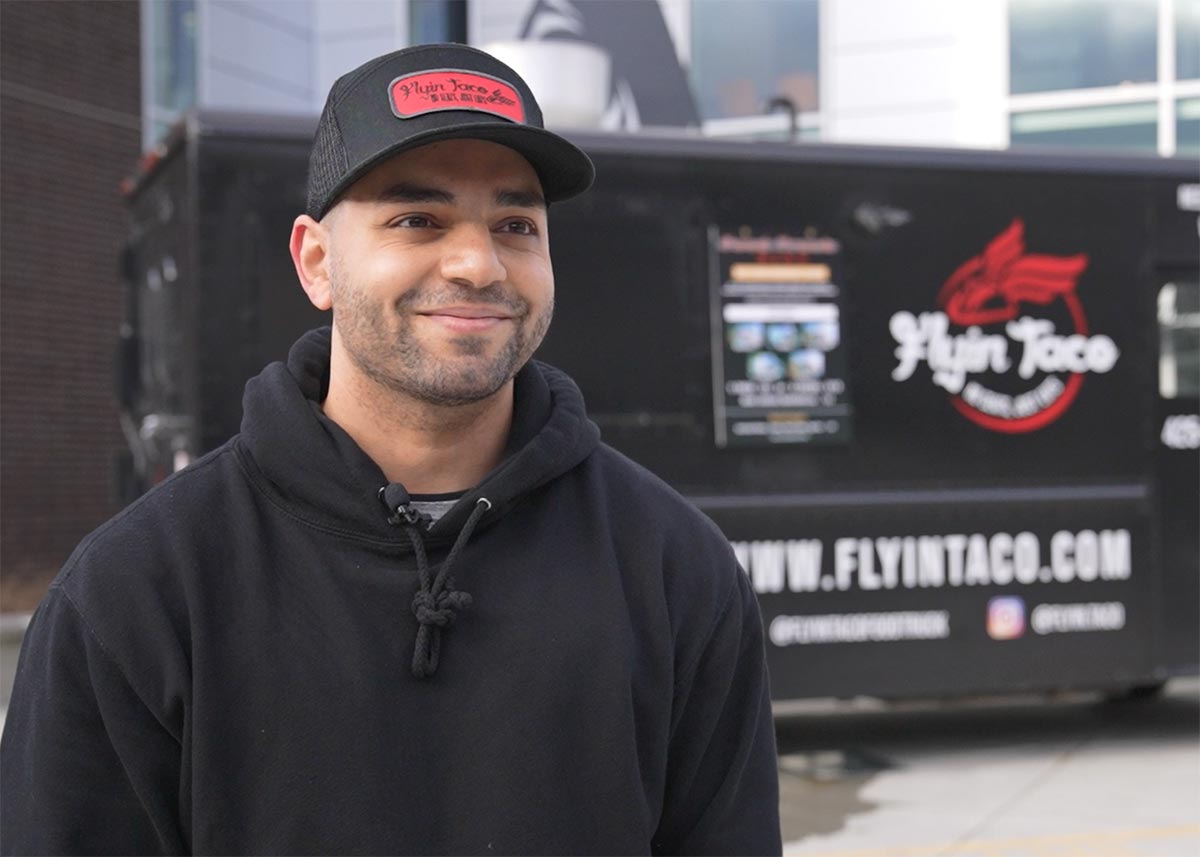 In Focus: Q&A with Chef Kyle Marty
---
Kyle Marty has always been passionate about cooking. It eventually led him to Edmonds College, where he graduated from the Culinary Arts program. After over a decade of working in ministry and other jobs, Chef Marty is finally pursuing a career in the food industry. He beat the odds by opening his food truck, Flyin Tacos, during the pandemic and is now thriving while following a lifelong dream. Proving that you can always return home, Chef Marty is back on campus outside Hazel Miller Hall, serving his Mexican-inspired cuisine from his truck on Thursdays from 11 a.m. to 2 p.m. through the winter quarter. Flyin Tacos can also be found at Grace Lutheran Church in Edmonds on Wednesdays and Fridays from 4 to 7 p.m.
Who inspired your passion for cooking?
"My mom, for sure. My mom had five kids, so she was always meal-prepping back when we were growing up. I just remember loving those days when my grandpa would come in and taste everything and have little samples. That just hooked me. I was in for food. I didn't know I was until I got older, but that is where I think it started for me. Even today, I love cooking with my mom and with my family. Food is very important with my family, especially at dinner time, sitting around the table. That's where (the passion) came from."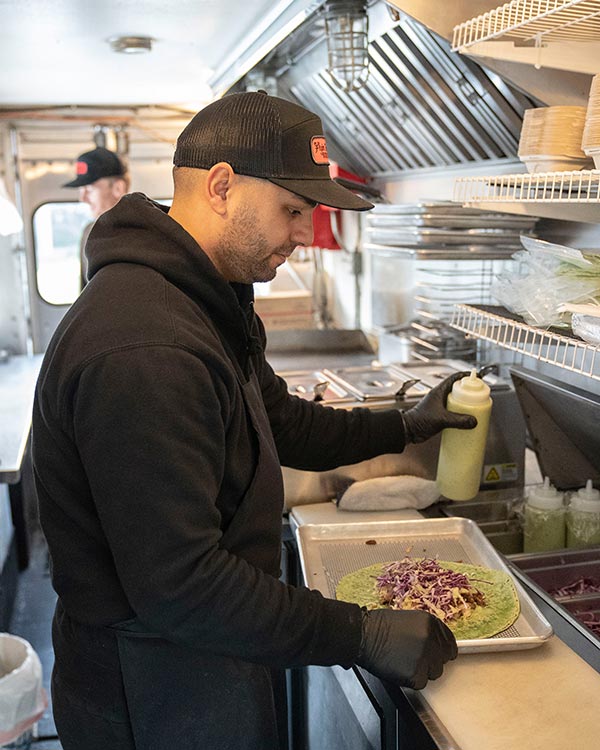 What was your path like to get into the industry?
"I knew out of high school I was more hands-on. I don't think of myself as book-smart, but I can do things with my hands. So, I just wanted to figure out if cooking could be the way I'd go. At the same time, I was going to culinary arts school here at Edmonds College, I fell in love with mentoring and pastoring students, specifically junior high students, and so I did that for a decade.
After that, I did a bunch of different odd sales jobs. I worked at Nordstrom and an app company in Kirkland. I discovered that just wasn't for me. I'm not built to be a salesperson. I'm built to be more relational. I know my gifts. My gifts are to utilize my hands and create food.
I wanted to work in a restaurant again, and my friend happened to have one. So I worked as her manager and helped rebuild and expand her restaurant. Then the pandemic hit, and it was time for me to leave, which was a perfect opportunity to start something on my own. I saw the success I was helping her achieve, so I thought, 'Why can't I do that for myself?'"
How did you get started in the taco business?
"It all stems from going to Costco, and I saw these street tacos kits. You get 12 street tacos, some cabbage, some cheese, a salsa, and a crema. I looked at that, and I was, 'Shoot, I could do that, and I could do that WAY better.' So that's what I did. I created these boxes with 12 street tacos with all the toppings separately, and my meat would rotate weekly between pork, chicken, and brisket. I created a website where people would pre-order, and I would deliver on Thursdays, Fridays, and Saturdays. I did that for like three to five months."
How did your learning experience at Edmonds College help prepare you to open a food truck?
"I opened a food truck because it's much cheaper than a restaurant, especially amid a pandemic. Restaurants were closing, so you had to be creative. A food truck just made sense. That's probably reason number one.
The school helped me by giving me the confidence to do this. As a young adult, you don't really know where you will go in life. You don't know what you're going to do. But a program like this gives you more confidence in, 'Hey, this is what you're good at, and lean into that because who knows what can come from that.' I'd say that out of everything this school gave me, it's just the confidence it gave me to realize that I'm good at this and can do this."
What is the best part of running a food truck instead of owning a brick-and-mortar business?
"Being so close to the customers. If you work in a restaurant and cook, you don't see the customer's reaction to eating your food. That's my favorite part. Kids are my best food tasters and critics. If they smile after taking a bite out of a taco I make, it just brightens my day. You get moms and dads that say, 'My kids won't eat anything, but they love your brisket tacos.' That makes me so happy."
What are some of the daily challenges of running a food truck?
"There is so much prep. Your day starts early, and it ends late. No one sees it. For me, it's just me. I hire some workers to work on the truck, but they're only with me for three to four hours at a time. The challenging part is to be by yourself and continue to push. You know what you need to get done that day, and you just have to wake up knowing that you have to do it, or it won't get done. You're just constantly prepping. The most enjoyable time is the service part. You have everything prepared; the easy part is just feeding people."
How did Flyin Taco start coming to Edmonds College?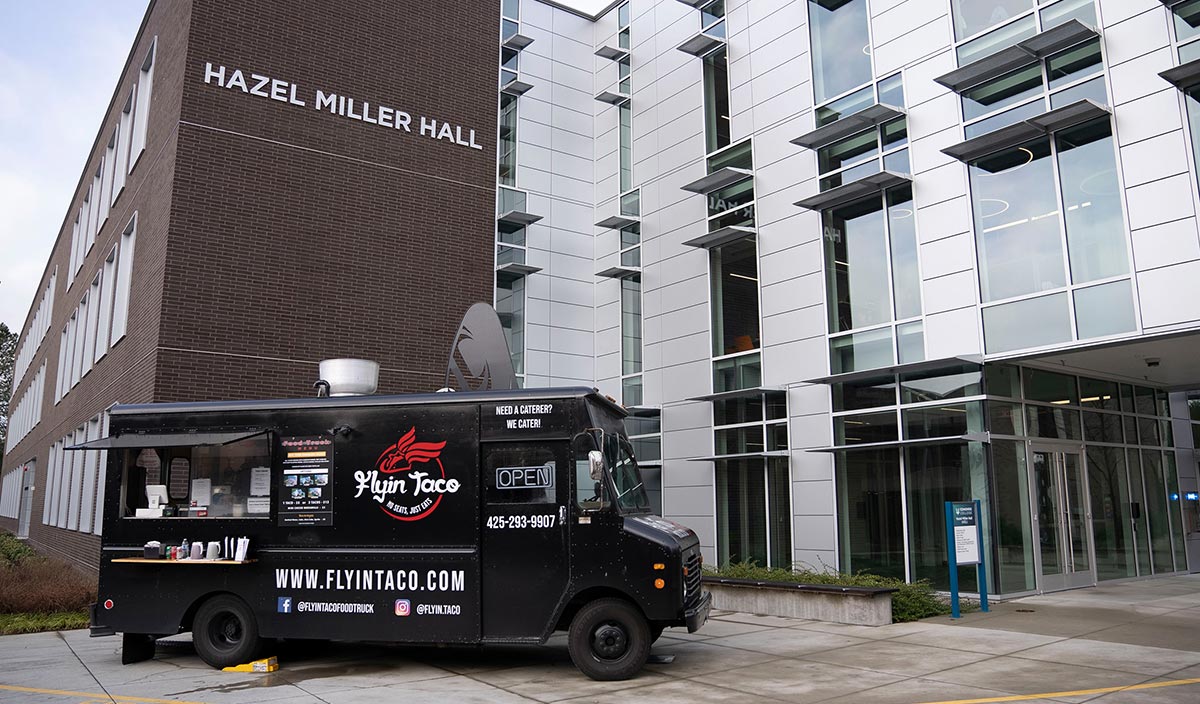 "I park three days a week at Edmonds Grace Lutheran Church parking lot, and one of the administrators here at Edmonds College came out and tasted the food. She said that she had food trucks that come to Edmonds College on a weekly basis and was wondering if I was interested. So I told her my story and mentioned that I went to school at Edmonds. It made sense to participate in this weekly food truck program serving lunch here on campus. It's so cool. I never expected this. It's like a full-circle moment. I started here, and now I'm back here serving. I think it's awesome."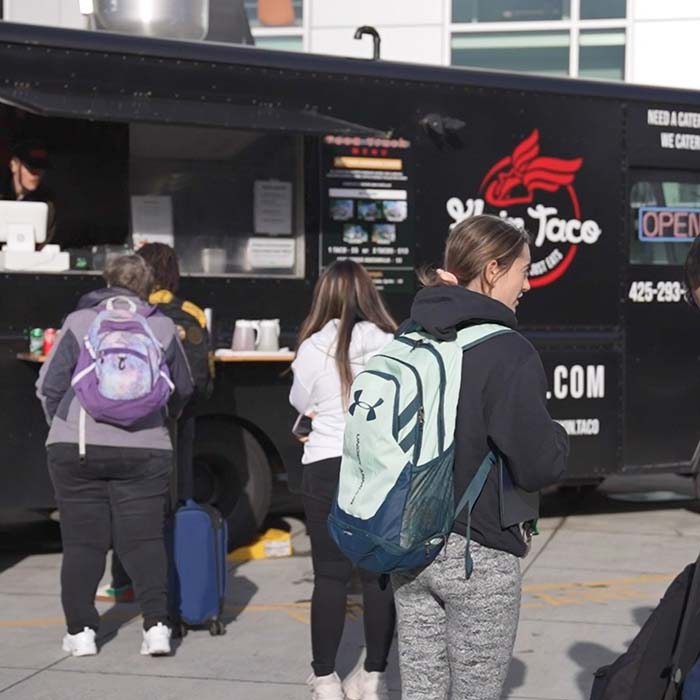 What is your philosophy when you are serving a customer?
"The thing that drives me insane is when someone gives me money and then I don't give them the best quality service, ingredients, or product back. I just expect that out of myself and anybody who works with me to give people the best product we can possibly give them. Although it's just a quesadilla or a taco, to me, it's not. People give me their valuable, hard-earned money and support me, so you have to return it with excellent food and service. You might not have a good day, but like I tell my guys, be smiling. If you're at the window taking their money, ask them how their day is and be personable. Those little things bring people back."
What's next for you in the industry?
"I'm always dreaming. This last summer, I had a chance to cater my brother's wedding. People flew in from all over, tasting these tacos, and saying, 'These are better tacos than I can get in San Diego.' He said to let him know if I was ever interested in franchising. It was a lightbulb moment for me. This could be bigger than just one truck. It could be maybe a franchise. My more narrow-scope dream is just to get a brick-and-mortar. That's the next step. I started with a food truck because that was the cheaper route, but now that we have been around for a year-and-a-half, it's my next step that I will hopefully have by summertime or next fall."
Do you have a strong following?
"Every week, we have the same people that come to the church. It's crazy. They keep on coming back, and we're on their schedule. I think people choose one or two places they want to support, and I'm honored that they keep coming back and supporting Flyin Taco and what we do."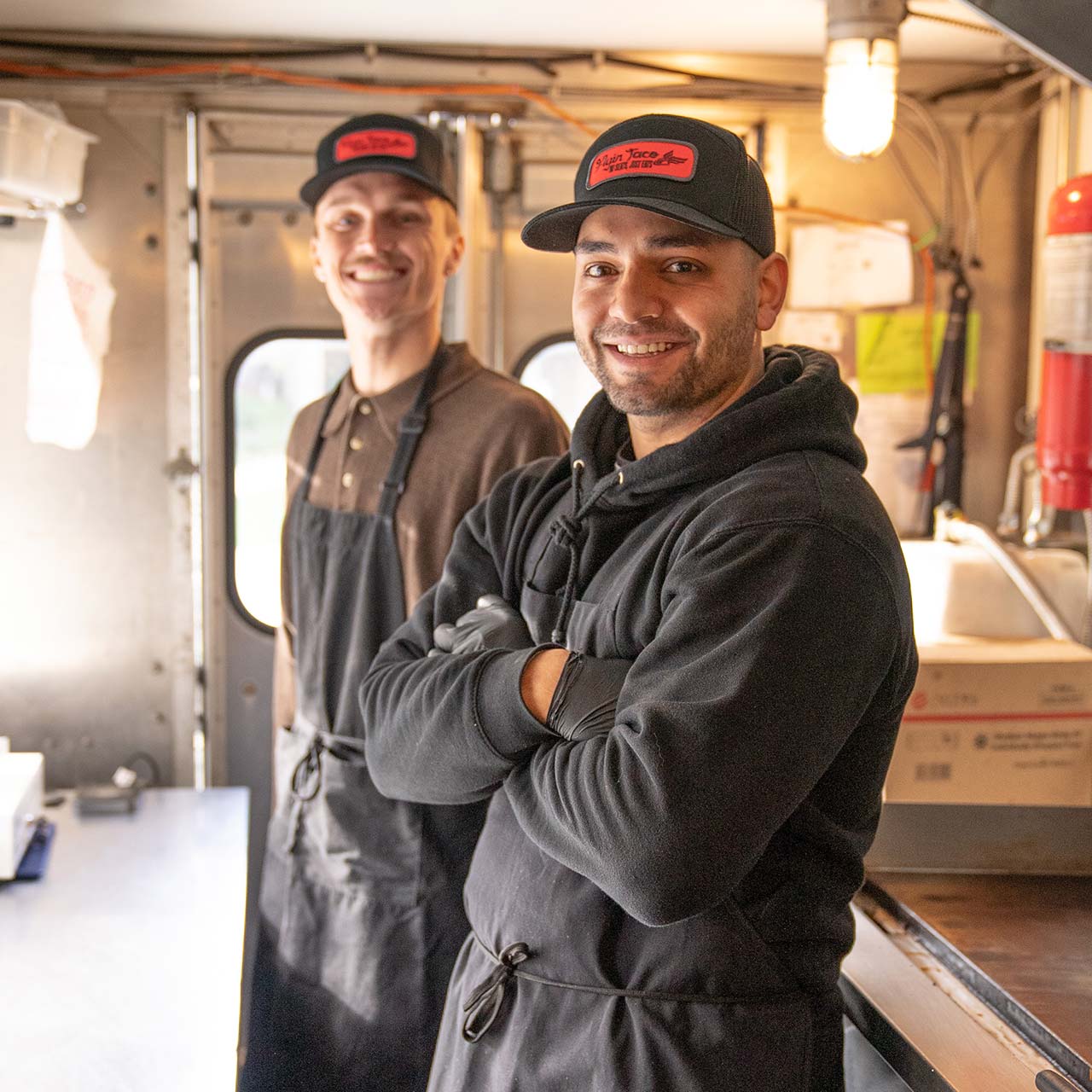 TOP