Sue Danielson: Attitudes of Perspective
Nov. 1-Dec. 11, 2020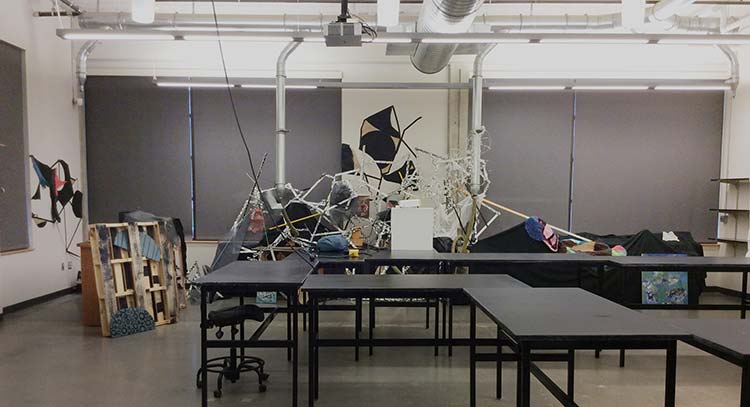 Attitudes of Perspective is a playful installation comprised of every day and constructed objects, videos, large drawings, and 3-D elements. It embraces the rapidly shifting perspectives we encounter daily, and the sometime resulting absurdities. Of course, the global pandemic has further complicated our lives. Although initially scheduled in the Edmonds College art gallery, the exhibition morphed into a site-specific installation in the dormant sculpture classroom after the gallery was locked down and most classes went online.
Art students have returned to campus because of hybrid painting and drawing classes. They will be able to encounter and safely travel through this large-scale installation.



About the Artist
Sue Danielson lives and works in Seattle. She is primarily a self-taught painter, printmaker, video and installation artist who was born and raised in Western Washington. She is a co-founder and co-director of the annual Duwamish River Artist Residency (since its inception in 2012). She has received fellowships from Ucross Foundation, Jentel Foundation, Willapa Bay Residency, Brush Creek Foundation and Centrum. She is also an occasional curator. In 2018 she brought the work of six New York artists to Seattle during a curatorial project titled Somewhere Nearby at Bridge Productions.
Selected exhibition locations include Introductions and Lobster Dinner at Trestle Gallery, and Site: Brooklyn in Brooklyn, NY, Bellevue Art Museum, Whatcom Museum of Art, Fine Art Museum at Florida State University, Out of Sight Art Fair, Seattle Air Fair, the Affordable Art Fair Seattle, and American Painting Today. She is currently represented by Linda Hodges Gallery.
Exhibit
Guest Book
TOP