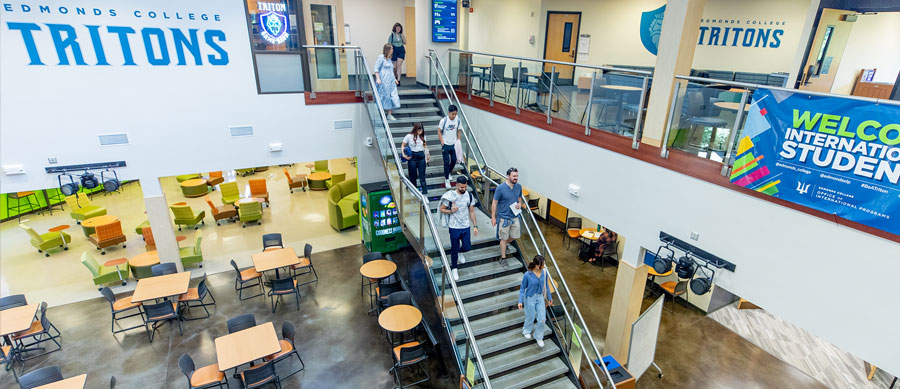 The Triton Student Center
The Triton Student Center (TSC), located in Brier Hall, is designed as a friendly and open gathering place to foster a sense of community and engagement among students, faculty, and staff. The Triton Student Center has an informal, yet dynamic atmosphere for taking in events, studying, finding connections, and utilizing other student services.
What can you do at the Triton Student Center?
Access Wifi
Reserve an event space, meeting room, and performance area (student organizations and S&A funded programs only). Please go to the Center for Student Engagement and Leadership Office in Brier 252 to make a reservation.
Relax and find a comfortable area for eating, studying, or just hanging out.
Charge your phone or personal devices with chargers located throughout the center.
Find a quick snack or beverage from the vending machines or bookstore.
Reserve a study room (rooms can be reserved for group study at Brier 252).
Enjoy and participate in the many cultural and fun activities, programs, and services that take place within the center.
Find it at the Triton Student Center
Other services and points of interest located in the Triton Student Center include:
Center for Student Engagement & Leadership (CSEL), located on the 2nd floor in Brier 252, is the hub for Student Government, Student Activities Board, clubs, Center for Service-Learning, Green Team, and student job opportunities.
Center for Student Cultural Diversity and Inclusion (CSCDI), located on the 1st floor in Brier 154, serves all students with additional intentional efforts of centralizing around students of color, gender-diverse backgrounds, the LGBTQ+ community, and all other historically marginalized identities.
Triton Game Room, located on the 2nd floor in Brier 233, provides a safe and clean environment to socialize and relax with friends. The room features two pool tables and the latest in console games for all current Edmonds College students.
College Bookstore, get your course materials and textbooks, college apparel, supplies, and other student essentials.
Dedicated student organizations and club gathering space (Brier 254 )
Private lactation room (room can be reserved at Brier 252)
Brier 244 Meeting Room (student organizations and S&A funded programs only)
Brier 240 Meeting Room (student organizations and S&A funded programs only)
3 Study Rooms (rooms can be reserved at Brier 252)
Triton Student Center Hours
Monday-Thursday: 7 a.m.-8 p.m.
Friday: 8 a.m.-5 p.m.
Saturday and Sunday: Closed
Contact Us
Phone: 425.640.1882 or 425.640.1581
Email: stewart.sinning@edmonds.edu
TOP