Cross Country
Edmonds College has launched men's and women's cross country and distance track programs for the 2020-21 academic year.! Any interested runners should contact head coach Shelby Schenck. Scholarships are available for both teams.
---
Pair of Tritons named NWAC Track All-Americans
Two Edmonds College track student-athletes received All-American recognition for their efforts this spring.
Christina Savenkova (Bothell HS, Lynnwood, WA) ran the third fastest time in the NWAC in the 1500 meters at the North Region Open meet on May 8. The freshman finished at 5:00.13.
Dylan Lennon (Bothell HS, Bothell, WA) ran the second fastest time in conference in the 10,000 meters at Whitworth University's Sam Adams Classic on April 17. The freshman finished with a time of 32:57.55.
Triton harriers competed in distance track events this spring and will start their second year of competition in cross country (first official year) this fall.
See the full list of NWAC All-Americans >>
---
Triton XC on top in season finale
Men's and women's cross country teams earn first place in season finale
Even in wet conditions at Legion Memorial Golf Course in Everett, both Triton cross country teams persisted and took home team victories at the NWAC Northwest Regional Championship in the season finale on March 24.
For the men, it was another battle with Whatcom. The two first-year programs traded team wins in two earlier meets this year. The Tritons prevailed 26 to 29. In the final 800 meters there were five position changes between the two teams. Dylan Lennon posted a 26:15.78 time to finish second overall in the 8k.
The women's team scored 66 points en route to a team triumph. Arella Rihn (19:57.69) and Christina Savenkova (20:06.62) placed third and fourth overall in the 5k. There were participants from Edmonds, Green River, Whatcom, Olympic, Everett, and Pierce. Both meets used modified scoring. Edmonds' runners will compete in NWAC distance track later this spring.
Northwest Region Championship Results >>
---
Savenkova races to third straight win
Savenkova garners her second NWAC Women's Cross Country AOTW award
Christina Savenkova contin ues her torrid start to the cross country season as she notched her third consecutive individual win at the Everett CC Invitational on Saturday, March 13. Savenkova turned in a time of 19:01.49 on the 5K course at McCollum Park in Everett. Arella Rihn was the third place finisher at 19:25.89. It was Savenkova's fastest time of the year and best overall in the NWAC. On March 16 she was named the NWAC Women's Cross Country Athlete of the Week for the second time this season.
The Triton men were barely edged out by Whatcom CC, 27 to 28 and placed second. Dylan Lennon came in second with a time of 28:44.48 and was followed by teammate Alek Schwiesow (29:25.16). It was the first 8k of the year for the men, who will also compete at that distance in their final meet of the season on March 24. The Northwest Region Championship in Everett will feature teams from Edmonds, Everett, Whatcom, Green River, Pierce, and Olympic to close out the season. See the full results >>
---
Triton harriers capture second win in a row
Christina Savenkova captured her second straight individual win for the women, and both EC cross country teams collected victories at the Whatcom CC Invitational on Saturday, March 6. The course was in Everson, Wash. just outside of Bellingham at Ramstead Memorial Park.
It was a tight triumph for the men as they edged Whatcom 27 to 28. The Edmonds women (32) defeated Whatcom (40) and Olympic (47). Dylan Lennon (16:38.6) was the top Triton male and Alek Schwiesow (16:51.8) came in third. Savenkova led the way (20:15.1) for the women and Arella Rihn (20:42.6) finished third. The Tritons will travel to Everett for the rescheduled NW Region meet on March 13.
---
Savenkova lands NWAC XC Female Athlete of the Week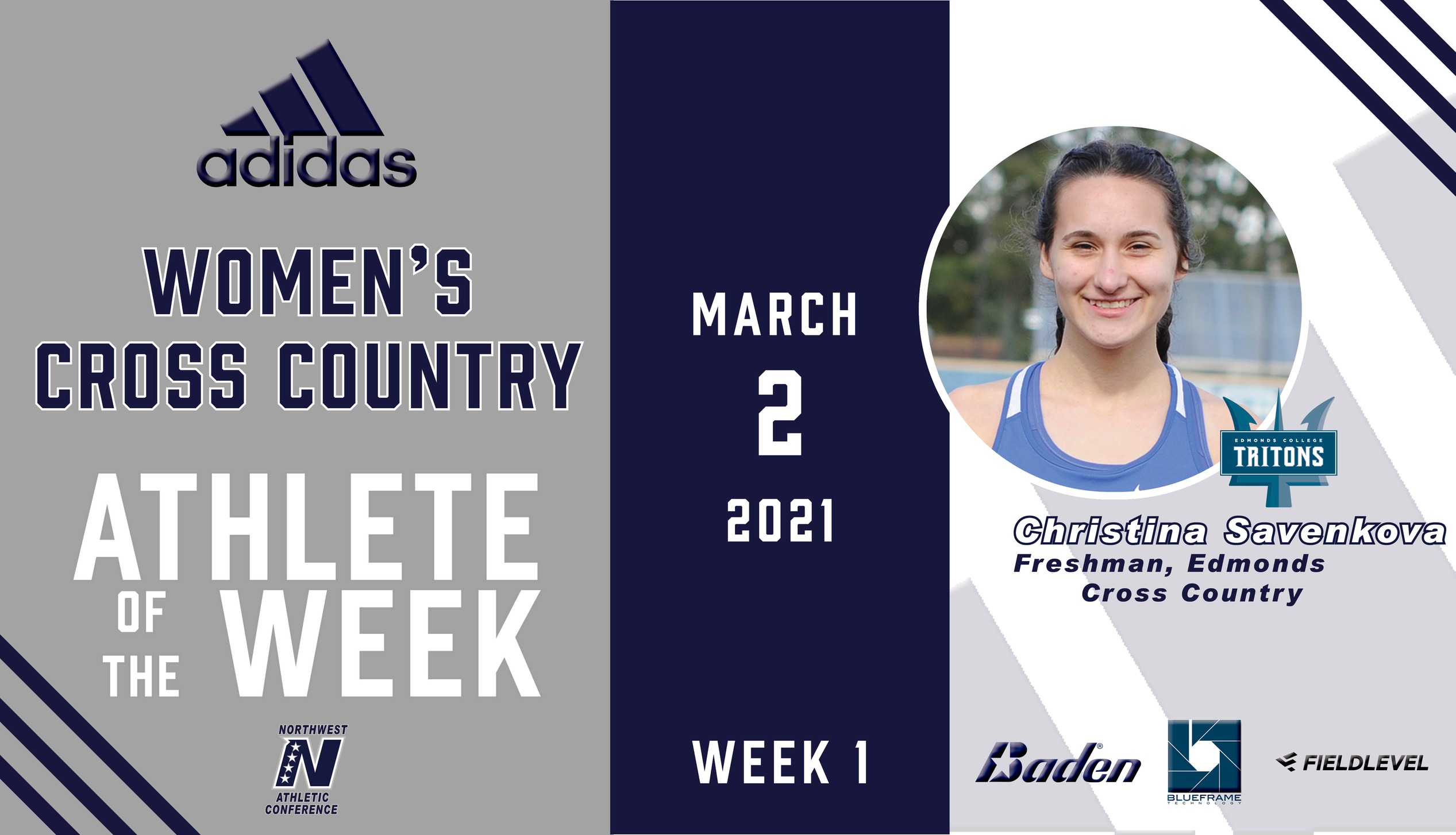 Freshman Christina Savenkova has been named the NWAC Cross Country Female Athlete of the Week after taking home first place in the Edmonds Invitational on February 20.
---
Saturday filled with many firsts for Triton XC
It was a day of many firsts for the Edmonds College cross country teams on Saturday. After waiting a week to start due to snow, the Triton cross country program finally opened the 2021 COVID-season, and competed for the first time ever. The Edmonds men and women took home victories in the team competition, and Triton harriers Alek Schwiesow and Christina Savenkova were the top finishers as individuals.
Dylan Lennon trailed Schwiesow by seven seconds to earn second place for the Triton men, and Arella Rihn was 20 seconds off Savenkova's pace to notch third place for the Triton women.
Edmonds scored 23 and Everett tallied 34 in the men's dual-meet. Edmonds edged Pierce in the women's tri-meet, 22 to 33. See the full results here >>
Last weekend's NW Region meet hosted by Everett CC has been rescheduled to March 13. Edmonds is back in action on Saturday, March 6 when they travel to Bellingham for the Whatcom CC Invite. No spectators are allowed at NWAC events this season.
The Edmonds Invite was one of four meets that opened the NWAC cross country season. Read More >>
---
TOP