Spencer Stark Hired as Athletic Director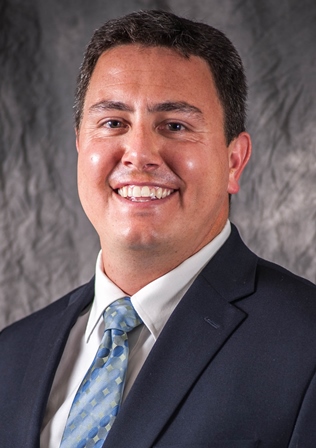 Spencer Stark was hired as Edmonds College Athletic Director, effective on April 1, 2017. Stark will also serve Edmonds College as the Northwest Athletic Conference (NWAC) Men's Commissioner.
Stark's duties will include providing administrative direction and oversight for all intercollegiate programs at Edmonds College as well as the intramural programs, facilities and activities. The director is responsible for ensuring compliance with NWAC, federal, divisional and college athletics regulations, administering departmental funds and accounts in a fiscally responsible manner and sustaining a culture of sportsmanship, inclusion, professionalism and respect at all levels.
"I would like to thank Jorge de la Torre and Christina Castorena for this incredible opportunity to lead Triton Athletics," Stark said. "I'm very passionate about the holistic development of our student-athletes, and I'm excited to continue to work with our outstanding coaching staff. We are going to work hard every day to create the best student-athlete experience in the NWAC and positively represent our College and community. Our teams will compete with class."
Stark brings many years of experience to the athletic director position. He played baseball for two years at Olympic College before transferring to play at York College (Nebraska). He earned his bachelor's degree in business management there and later earned a master's degree in sports administration at Concordia University Irvine. After college he returned to OC as an assistant baseball coach and served as the athletic specialist / recreation director for four years. Stark has worked at Edmonds for nearly five years as the associate athletic director where he oversaw game management, rentals, student-employment, facilities upkeep, and scheduling.
"Spencer is a great fit as the Athletic Director at Edmonds College," said Jorge de la Torre, Dean for Student Life and Development and former Athletic Director. "Spencer has an extensive background in athletics and in the community college system. He is dedicated to serving our students, our College and the community. I am looking forward to working with Spencer in his new role and I believe he will take athletics at Edmonds College to a new level of success."
Edmonds College will begin a search and look to fill the position of assistant athletic director during the 2017 spring quarter.
TOP