Men's Soccer
The Edmonds College men's soccer team won the NWAC championship in 1981 and has earned seven league titles, including recent crowns in 2011, 2012 and 2014, as well as 13 top 4 finishes at the NWAC Tournament.
---
Kososkie named as EC men's soccer coach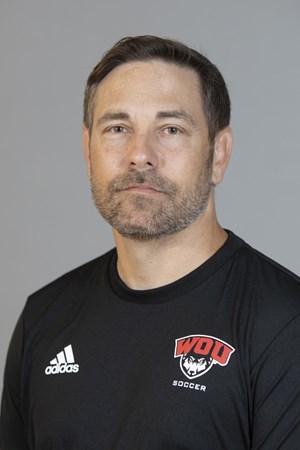 LYNNWOOD -- Ben Kososkie has been named as Edmonds College's new men's soccer head coach. Kososkie most recently served as an assistant with the women's program at Willamette University, a NCAA DIII in Salem, Ore., for the 2021-22 season. He is currently the Director of Coaching for Oregon Odyssey Soccer Club which is based in Salem. Prior to Willamette, he coached at Western Oregon University (NCAA DII) in Monmouth, Ore. from 2019-2020 where he helped the women's program reach the GNAC semi-finals for the first time in school history. From 2016-2018 he served as the head coach for both the men's and women's soccer programs at Hawkeye Community College, an NJCAA school in Waterloo, Iowa.
---
Cho selected as NWAC All-Star
Men's soccer sophomore captain Caleb Cho was selected to participate in the NWAC All-Star Game at Starfire Sports in Tukwila, Wash. on Sunday, November 14. The defender has been a mainstay on the backline for the Tritons the past two seasons. The game kicks off at 9 a.m.
---
Vinicius Armucho honored with Transforming Lives award
The Edmonds College Board of Trustees awarded Vinicius Armucho with its 2020 Transforming Lives award. The award is given annually to a student whose life was transformed by attending Edmonds College and who also overcame significant barriers to achieve his or her educational goals. Armucho is a freshman on the men's soccer team from Sao Paulo, Brazil. He also serves as a resident assistant on campus for the housing department. Read More > >
---
Hauser collects NWAC award
Men's soccer sophomore goal keeper Colin Hauser (Boise, Idaho) was named as an NWAC All-Star as announced by the conference. Hauser has made numerous highlight-reel worthy saves in his two years in goal for the Tritons. In all he finishes his career with 155 saves and a .771 save percentage. The Boise High School product earned six shutouts as well. Men's Soccer NWAC All-Stars > >
---
Abad honored at SnoCo Sports HOF banquet
EVERETT -- Edmonds College men's soccer alum Julio Abad was honored at the Snohomish County Sports Hall of Fame Banquet at the Angel of the Winds Arena in Everett, Wash. on September 18 as the Snohomish County Male Collegiate Athlete of the Year. Abad, who was the Triton Athletics Male Athlete of the Year in 2018-19, is currently a member of the Long Island University men's soccer program, a NCAA DI in New York. Abad's mother Cynthia accepted the award on his behalf. Read about the night >>
---
Meadowdale native globe-trotting through soccer
Julio Abad has created opportunities for himself from Lynnwood to Abu Dhabi playing the sport he loves
The Triton Athletics 2018-19 Male Athlete of the Year was featured in the Everett Herald sports section on July 2, 2019. The former men's soccer player is training with the Seattle Sounders FC U-23 team, will join NCAA DI Long Island University in August and recently had the opportunity to be on the Special Olympics USA unified men's soccer team that competed at the 2019 Special Olympics World Games in Abu Dhabi, United Arab Emirates. Read the story by Nick Patterson > >
TOP