Volleyball News
April 14, 2017
LYNNWOOD -- The Edmonds College volleyball program has signed two more players to their roster for the 2017 season. After a bounce-back season that saw the team qualify for the NWAC Championships, the Tritons have added two more quality players. These two additions bring power offense and tenacious defense to a roster that returns six quality sophomores.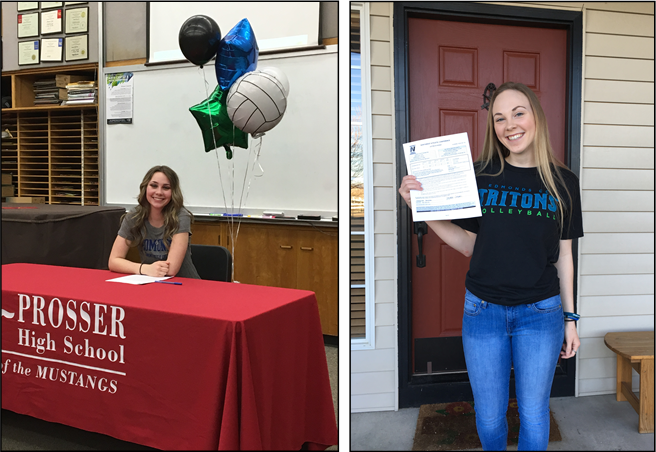 (L-to-R): Hannah Lind and Emalee Jordan
Hannah Lind - 5-10 Outside Hitter, Prosser HS, Prosser, Wash.
Hannah is a two-time Central Washington Athletic Conference 1st Team Outside Hitter. She plays for Shockwave VBC in Tri-Cities and was the Prosser High School varsity captain and team MVP her senior year. She was also was named WIAA Volleyball Athlete of the Week for week 4 of the 2016 season. She comes from a family of athletes and coaches; her mother coaches her in club volleyball and her father is a track coach. Her sister Kayla is a sophomore setter on her high school and club team. Lind is interested in Physical Therapy.
"Hannah has a high volleyball IQ and does a lot of things very well," said coach Miranda. "She has a lot of range as a hitter, serves tough, passes, and plays great defense. She plays with enthusiasm and makes players around her better. She came up big in a lot of important high school and club matches, which shows she is competitive and fearless. We are looking forward to welcoming her in the fall."
Emalee Jordan - 5-05 DS/Libero, Rocky Mountain HS, Meridian, Idaho
Emalee also comes from a volleyball family. Her dad Michael is her club coach and the Director of Peace Love & Volleyball Club in Eagle, Idaho. This year she also took on the responsibility of coaching, leading the U14 team in the club. Jordan is a two-year starter on varsity and was a captain her senior year helping her team to a district championship. She was in the USAV High Performance program and participated in the AVCA Phenom program as well. Academically, she is interested in Biology and Marine Biology.
"As we put together a competitive and balanced roster for next season, Emalee brings another great dimension to the team," says coach Miranda. "She has great instincts and an advanced understanding of the game. She's a great passer, server and defender. She is such a positive person. She always has a smile on her face and keeps her teammates engaged. Definitely a great addition to our program."
---
March 28, 2017
LYNNWOOD -- Triton volleyball welcomes two great additions for the 2017 season. Coming off a 26-win season and a 9th place finish at the NWAC Championships in 2016, the program is looking to take the next step in 2017 to be considered among the elite in the NWAC. The first two additions of this year's recruiting class add a versatile offensive player and a fantastic defensive player.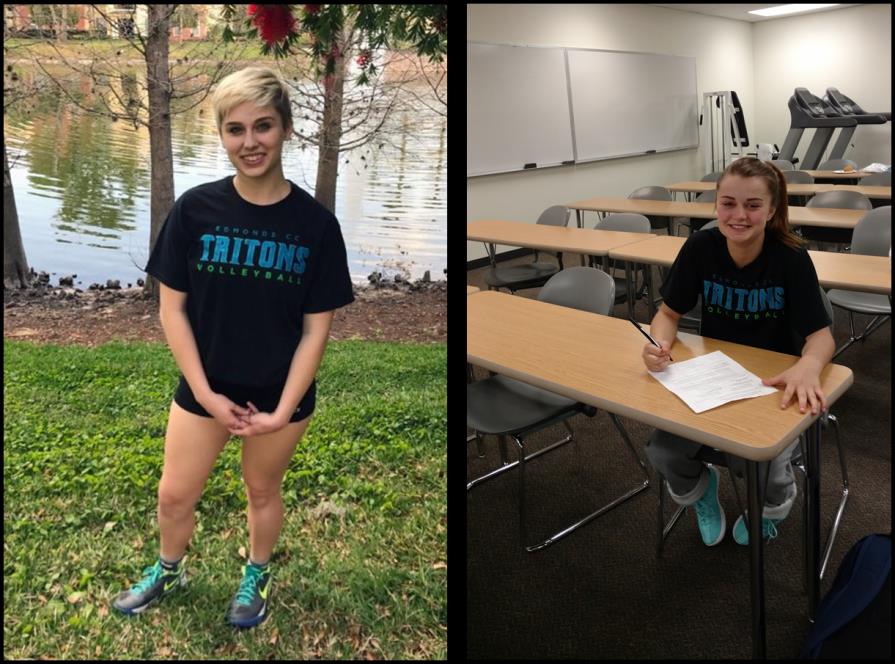 (L-to-R): Heather Goodman and Hannah Barbour
Heather Goodman - 5-10 Outside Hitter and Middle Blocker, Lakeland HS, Lakeland, Fla.
Heather Goodman is a highly decorated and versatile hitter from Lakeland, FL. She was named player of the year for Polk County after leading the county in kills and being among the leader in digs. Her senior year was highlighted by four consecutive 20+ kill matches to close out the season and lead her team to a state playoff berth. She was first-team all county her junior and senior years and was also named to the all-state team. She plays club for Orlando Tampa Volleyball Academy.
"Heather's versatility is what caught our eye," said coach Miranda. "She was able to play multiple positions and played great defense. On her visit we could tell that she was tenacious and a hard worker that brings a ton of energy. That's the kind of attitude that will make a great addition to our program. Heather had several options and we are excited that she chose to come to Edmonds."
Hannah Barbour - 5-03 DS/Libero, Graham-Kapowsin HS, Graham, Wash.
Hannah Barbour is a libero from Graham, Wash. She was named her high school's defensive player of the year all four years. As starting libero, she has gone to the WIAA State tournament in 2015 and 2016. She also earned 2nd team all SPSL 4A honors her senior year, and was named Tacoma Athletic Commission defensive player of the year in 2016. She plays for Puget Sound Volleyball Academy.
Coach Miranda: "Hannah is a go-getter. She's aggressive, works hard, and will be a great addition to our defensive core. On the court she is all-business and relentless. That is a quality I was looking for and I found it in Hannah. We are happy to welcome her to our program; she elevates our team and makes us better."
TOP