Volleyball
The team won the NWAC championship in 1979 and has earned seven league titles (most recent in 2018) and five top four finishes (most recent in 2018).
---
Volleyball rips off four wins in Seaview
The Edmonds College vollyeball team has started the year with four straight victories in Seaview Gym. On Friday, August 27 they disposed of Blue Mountain CC in straight sets 3-0, then topped Walla Walla CC 3-1. On Saturday, August 28 they defeated Chemeketa CC 3-0, and Monday, August 30 they outlasted Southwestern Oregon CC 3-2 in comeback fashion.
---
Volleyball earns AVCA honor roll
The Edmonds College volleyball team was honored by the AVCA for their stellar performance in the classroom this past year. The Tritons were in the top 20% of schools at the two-year level, and were awarded Team Academic Honor Roll by the AVCA (the highest scholarly achievement in their sport). The program was one of three NWAC programs to receive this recognition.
2021 USMC-AVCA Team Academic Awards >>
---
Danika Brown tabbed as AVCA All-American
Volleyball player Danika Brown has been tabbed as a 2nd-Team AVCA All-American for two year colleges across the country. The sophomore middle blocker was also selected as the NWAC North Region MVP this year, as decided by North Region volleyball coaches. It is the third consecutive year a Triton volleyball player has been named to the All-American team.
See the full list of AVCA Two-Year All-American Teams >>
---
Pel named NWAC North Defensive POTW
Volleyball sophomore libero Kiana Pel has been named the NWAC North Region Defensive Player of the Week. Pel notched 19 digs, served 100% (18 attempts) and passed at a 2.0 efficiency in Edmonds' five-set win over Bellevue on April 20.
---
Volleyball wins another five-set thriller
The Triton spikers put together another five-set win on Tuesday night in Seaview Gym -- this time over Bellevue College 25-22, 25-19, 17-25, 17-25, 16-14). Heidi Norman dished out 39 assists and Kiana Pel notched 19 digs. Three players reached double-digit kills: Jordyn Stocks (14), Montana Disegna (11), and Keelan Memory (10). Edmonds match with Everett on Friday, April 23 has been postponed out of an abundance of caution and due to COVID-19 protocols.
Disegna named North Defensive POTW
Freshman Montana Disegna has been named the NWAC North Region Defensive Player of the Week. She had 23 digs, 2 aces, and passed 2.0 on 32 attempts in the Tritons' five-set win over Whatcom on April 13.
---
Danika Brown lands AVCA POTW Honor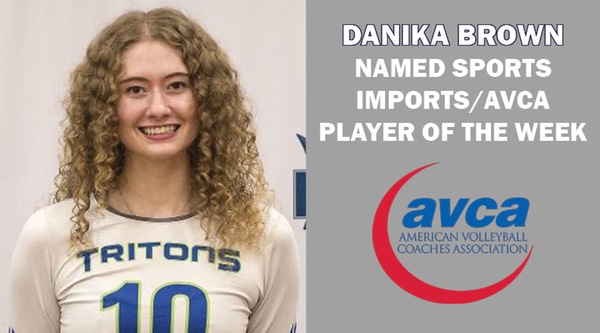 Edmonds college sophomore volleyball player Danika Brown has been named the American Volleyball Coaches Association (AVCA) Two-Year Collegiate National Player of the Week!
Brown was also chosen as the NWAC North Region Offensive Player of the Week and NWAC Volleyball Player of the Week. Her national honor is a first in program history.
---
Volleyball outlasts Whatcom in home opener
The Edmonds College volleyball team took the first two sets over Whatcom CC Tuesday night in Seaview Gym, but had to regroup to eventually take the match in five sets over the Orcas. Edmonds defeated Whatcom in their home opener 25-17, 25-21, 22-25, 21-25, 17-15. Danika Brown's ace sealed the victory in a back-and-forth fifth set. Edmonds next match at Skagit Valley College on Friday, April 16 has been canceled due to COVID-19 protocols.
---
Volleyball bows out of NWAC Tournament
Hooper, Brown named All-Region; Gardner selected as NWAC AVCA All-American
TACOMA -- Edmonds College volleyball went 1-2 at the NWAC Championship Tournament in Tacoma and saw their season come to an end. The Tritons won a thriller over Linn-Benton 3-2 before losing to Pierce College 3-0 and Highline College 2-0. It was another successful campaign for the program. Edmonds ended the season 28-14 and made their fourth straight trip to the postseason.
Three players were selected as NWAC North Region All-Stars as announced by the conference at the banquet Wednesday night. Sophomores Sadie Gardner and Haylee Hooper were first-team picks, and freshman Danika Brown made the second team. NWAC Volleyball All-Stars > >
Gardner, Hooper, and Ludwig made the All-Star Games on Sunday, November 24. Gardner, a stud outside hitter, was selected as an AVCA NWAC Third-Team All-American. It is the second straight year a Triton volleyball sophomore has been honored to the six-person All-American Team. Last year Michelle Dmitruk was the first Triton to ever make the list. AVCA NWAC All-Americans > >
---
Volleyball spoils Whatcom's perfect league record on sophomore night
LYNNWOOD -- Edmonds College volleyball is peaking at the right time. The Tritons celebrated four sophomores in Seaview Gym on November 6, and put a cap on the season with a 3-0 sweep of division leader Whatcom CC. The win spoiled the Orcas chance at a perfect league record in 2019 -- something Edmonds did one year ago.
The Tritons finished 27-12 and 9-3 in North Region play, ending on a five-game win streak. The 2019 NWAC Championship Tournament starts on Thursday, November 21 at the Tacoma Convention Center. Edmonds is the No. 2 seed from the North and will face Linn-Benton CC (27-10, 13-3 South), the No. 3 seed from the South Region. First serve is set for 2 p.m. It is the fourth consecutive trip to the postseason for the program under Tony Miranda. Edmonds College Tritons Blogspot: Volleyball opens NWAC Championships in Tacoma > >
The four sophomores who played in their final home match are Audree Weekes, Payton Ludwig, Haylee Hooper and Sadie Gardner. The past two years they've gone 59-20 overall, including 21-3 in North Region action. The two year stretch will go down in program history as one of the most successful ever.
---
Dmitruk Named AVCA All-American
Sophomore outside hitter Michelle Dmitruk (Everett, Wash.) has been named to the American Volleyball Coaches Association's Two-Year College All-American team. Dmitruk, who was tabbed as the NWAC North Region MVP, and who was also selected to the NWAC All-Tournament Team, landed on the AVCA Third-Team All-American list.
Dmitruk led the Tritons to the North Region title and a 4th place finish at the NWAC Tournament. She averaged the most kills per set in the region. Dmitruk also received the NWAC Academic Excellence Award for her efforts in the classroom. Link to the AVCA website
---
An effective but unorthodox star leads Edmonds College volleyball
Michelle Dmitruk, a Cascade High School alumna, didn't take a traditional path to success. Dmitruk, a 5-foot-10 sophomore, is the top player for an Edmonds team that is 29-6, went undefeated in the North Region, and carries the No. 4 ranking in the NWAC coaches poll into the NWAC tournament, which takes place Thursday through Sunday at the Greater Tacoma Convention Center. The Tritons open the double-elimination tournament against West Region No. 4 Tacoma at 2 p.m. Thursday.
Read the full story from the Everett Herald > >
---
Dmitruk latest Triton Volleyball player to nab NWAC Offensive Player of the Week honor
Michelle Dmitruk was bestowed the honor of NWAC Volleyball Offensive Player of the Week on October 25. The sophomore outside hitter from Cascade High School was very efficient hitting, had solid passing despite being targeted by both of the Tritons' opponents, and also played stellar defense. Against Shoreline (Oct. 15) and Olympic (Oct. 17) she also added five aces.
Along with the conference award, she was also selected as the North Region Offensive Player of the Week. Teammate Kendall Broschat earned NWAC Player of the Week on October 11. Read More > >
---
Triton volleyball claims NWAC Crossover Championship, wins North opener
Edmonds College volleyball ripped off their seventh win in a row on Friday, September 21 when they topped Shoreline CC in straight sets (25-18, 25-23, 25-19) to open NWAC North Region play. Michelle Dmitruk led the attack with 17 kills; Sadie Gardner added 15 kills. Four Tritons recorded double digit digs: Emalee Jordan (15), Gardner (14), Heather Goodman (12), Dmitruk (10).
Edmonds (18-6) earned five wins to stay perfect at the NWAC Crossover Tournament in Gresham, Ore. September 14-15. The Tritons took the Championship, which was hosted by Mt. Hood CC. Sophomore outside hitter Michelle Dmitruk was named the Tournament MVP. Emalee Jordan (Meridian, Idaho), Sadie Gardner (Vernal, Utah), and Haylee Hooper (Auburn, Wash.), also garnered recognition as they were named to the All-Tournament Team (pictured left-to-right).
NWAC Crossover Tournament Recaps | Read More > >
---
TOP