Manufacturing Month highlights modern manufacturing – a vibrant and growing industry that offers diverse, high-paying career opportunities.
EVENTS
---
Fri., Oct. 1, 2021 | 10 a.m.- 11:30 a.m.
Program Launch
Edmonds College and the Advanced Manufacturings Skills Center (AMSC) are thrilled to announce that we have a new pre-apprenticeship program starting during the 2021 Manufacturing Month.
The 10-week long Construction Trades pre-Apprenticeship Certificate is a supportive, hands-on program designed to help you improve your basic skills before applying to an apprenticeship program.
You are welcome to join us for the virtual information session, Q&A, and program launch.
This program is brought to you by a partnership between Edmonds College, Sound Transit, City of Lynnwood, City of Edmonds, and others.
---
Thurs., Oct. 7, 2021 | 10-11:30 a.m.
---
The Advanced Manufacturing Skills Center (AMSC)
AMSC Virtual Tour | Q&A Presentation
The Advanced Manufacturing Skills Center of Edmonds College provides students with specific job skills training, as well as high-level, quality education for businesses, organizations, and individuals looking for training tailored to their particular interests or profession.
The AMSC's Advanced Aerospace Training courses provide students with practical high-tech skills needed for the current and future manufacturing environment.
Registration is closed. Thank you for coming!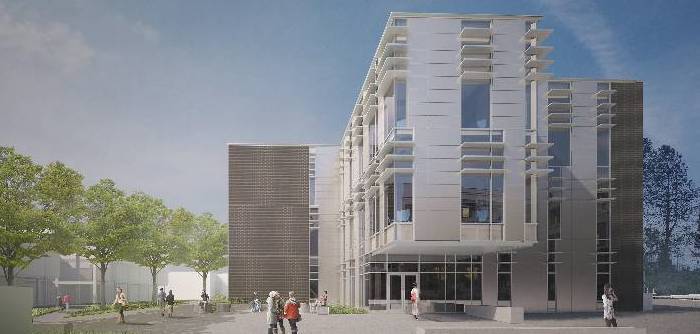 Tues., Oct. 12, 2021 | 10-11:30 a.m.
---
Edmonds College STEM Programs
Hazel Miller Virtual Tour | Q&A Presentation
Last October, Edmonds College celebrated the opening of Hazel Miller Hall, a $54 million building dedicated to Science, Technology, Engineering, and Math; and Nursing to serve our future nursing and STEM students.
Find out about Edmonds College's available STEM (Science-Technology-Engineering-Math) programs that take place on Main Campus. These include, but are not limited to,Construction Management, Engineering, Engineering Technology, Materials Science Technology, and Mechatronics & Automation Technology.
Thurs., Oct. 14, 2021 | 10-11:30 a.m.
---
Manufacturing Career Trends in 2021
Industry Panel
Top representatives from aerospace, space, and marine manufacturing discuss the state of the manufacturing workforce, employment trends, and goals for the upcoming year.
Tues., Oct. 19, 2021
---
The Facility Makerspace
Makerspace Virtual Tour | Q&A Presentation
The Facility Makerspace offers our local community direct access to an 11,000sf Engineering Technology Shop with $2,000,000 of high tech equipment. Interested in CNC technology like laser cutters, 3D printers, and CNC routers? Maybe you prefer more hands-on fabrication equipment in our metal shop, wood shop, and composites lab. From design thinking classes to equipment orientations you can get moving in just 2 hours. Welcome to your innovation sandbox with the tools, training, and community you need to turn your thoughts into things.
Thurs., Oct. 21, 2021 | 10-11:30 a.m.
---
Embracing the Future Manufacturing Workforce
Industry Panel
As we rebuild our manufacturing industry in the wake of COVID-19, employers are finding strength in a workforce made up of underserved populations. The industry is welcoming People of Color, women, and people with disabilities more than ever before. This partnership between industry and diverse communities benefits everyone involved.
In this panel, we will discuss the outstanding opportunities that come with changing the makeup of the workforce, strategies for integrating diverse communities into the industry, and the challenges that we will have to overcome to make sure that we can all grow and thrive together.
Mon., Oct. 25, 2021 | 10-11:30 a.m.
---
The Washington Aerospace Training and Research (WATR) Center
WATR Center Virtual Tour | Q&A Presentation
Do you need a new, rewarding, and high-wage career ASAP? The Washington Aerospace Training and Research (WATR) Center is industry focused and responsive to workforce needs. They are committed to providing innovative and relevant programs of study for present and future aerospace workers that meet the demands of the fast-paced aerospace industry.
The WATR Center offers five unique short-term aerospace certificates of certification, preparing students for their new career in JUST 12 WEEKS.
---
LOCAL MANUFACTURING COMPANIES
Many of our manufacturing students have gone on to have careers at these outstanding companies, and hundreds more. Check out their videos and see what a job in manufacturing can look like.
---