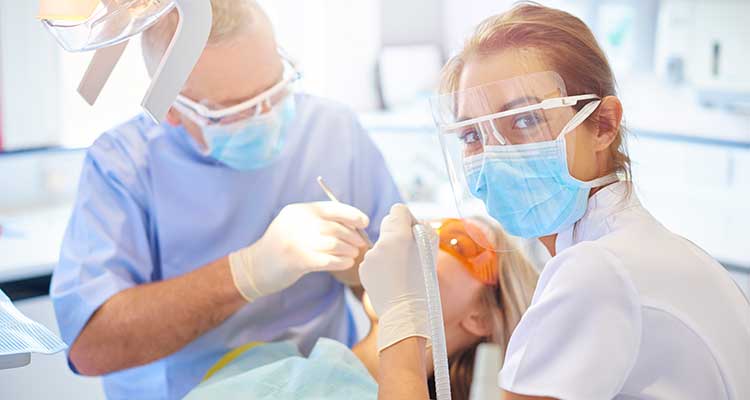 Dental Assistant
Dental assistants are valuable members of a team that includes dentists, dental hygienists, dental lab technicians, and front office staff to provide outstanding patient care. Primarily trained to assist the dentist during chair-side procedures, a dental assistant may also perform various supportive services under the dentist's direct supervision. In addition to clinical duties, assistants are proficient in laboratory, radiology, and administrative procedures.
Program coursework at our Washington State campus includes clinical and laboratory procedures, dental sciences and materials, and administrative duties. You'll learn head and neck anatomy, dental instruments, equipment and chairside procedures, manipulation of dental materials, x-ray techniques, disinfection and sterilization procedures, and management of medical and dental emergencies. Administrative coursework includes business office skills such as scheduling and billing, ethical and legal aspects of dentistry, and communication skills. Clinical externships provide opportunities to gain hands-on experience under the direct supervision of licensed professionals.
Employment opportunities are found in private and group dental practices, community health centers, specialty dental practices, mobile dental units, insurance companies, hospitals, dental school clinics, and public and private health facilities.
Dental Assistants Career Video at careeronestop.org
Dental Assistant Career Outlook
According to the Bureau of Labor Statistics (bls.gov) employment of Dental Assistants nationally is projected to grow 8% percent from 2021 to 2031, faster than average for all occupations.
The Washington State Employment Security Department (esd.wa.gov) projects the average annual growth rate of 3.1 % from 2020 through 2030 for Dental Assistants in Snohomish County and 2.9% in Seattle-King County. As of 10/14/22 the average hourly wages are $24.28 in Snohomish County and $26.48 in Seattle-King County.
For more information contact:
Elizabeth Patterson elizabeth.patterson@edmonds.edu | 425.640.1061
Dental Assisting Courses:
| Course | Title | Credits |
| --- | --- | --- |
| AHE 110 | The Human Body | 5 credits |
| AHE 115 | Allied Health: CPR | 1 credit |
| AHE 116 | Introduction to Healthcare | 4 credits |
| DENTL 100 | Orientation to Dental Assisting | 2 credits |
| DENTL 101 | Chairside Assisting | 2 credits |
| DENTL 103 | Infection Prevention and Control | 2 credits |
| DENTL 105 | Dental Sciences I | 3 credits |
| DENTL 106 | Dental Sciences II | 2 credits |
| DENT 110 | Dental Radiography | 3 credits |
| DENT 111 | Dental Radiography Lab | 2 credits |
| DENTL 113 | Dental Materials/Lab Procedures I | 2 credits |
| DENTL 114 | Dental Materials/Lab Procedures II | 2 credits |
| DENTL 115 | Dental Office Administration | 2 credits |
| DENTL 120 | Dental Assisting Externship | 4 credits |
TOP