BIOLOGY MAJORS PATHWAYS
If you are interested in a career in biology, you can start your education in affordable, small classes at Edmonds College. Our students can complete an associate degree in biology and transfer to 4-year accredited universities and colleges within Washington as well as nationwide to continue earning their bachelors degree.
Please discuss your academic plan and transfer requirements with a biology advisor specializing in biology careers (Gwen Shlichta or Jonathan Miller) or the Edmonds College advising departments. You can find additional information about advising on the advising biology majors page.
Undergraduate Research
You can actively engage in research in the biology department at Edmonds College as part of the curriculum in several of our biology classes. Many of our biology faculty have published research papers, received grants, and engaged in research in a variety of fields, including ecology, microbiology, immunology, endocrinology, animal reproduction, and nutrition.
Butterfly Research Lab on Global Climate Change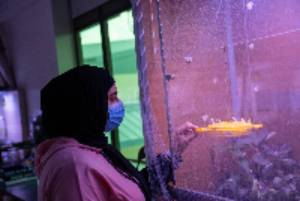 Our students in BIOL& 212 and BIOL& 213 use the cabbage white butterfly as a model system to study global climate change. These courses introduce you to biological research and global climate change. Our curriculum allows first- and second-year students to participate in relevant, hands-on research in the classroom with experienced faculty in this field of ecology research. Your early exposure to research will not only prepare you for a career in biology with the necessary tools to explore issues in the field but also prepare you to transfer to a larger university.
Microbiology Research
Students in BIOL& 260 engage in curriculum-based undergraduate research as part of their analysis of unknown microorganisms collected from different locations in the area. You will classify the unknown microorganisms using a variety of experimental methods including PCR to obtain DNA to sequence a portion of the genome of the unidentified species.
Undergraduate Research in Biology (BIOL 293)
You can also expand your research skills and knowledge by enrolling in an undergraduate biology research course in the spring quarter. In this course, you work on projects under the guidance of a biology faculty member as part of a three-credit lab class that qualifies as elective credit in the Biology and Pre-nursing DTA.
Special Topics in Biology (BIOL 155 and BIOL 255)
Not only will you participate in dynamic research projects at Edmonds College, but we also offer a one-credit course on special topics related to modern biology in society. You will explore the relevant scientific literature and critically discuss emerging biological research. You will focus on themes such as vaccine development, climate change, pandemics, and other topics with the guidance of our faculty.
---
Meet Our Students
Bee Club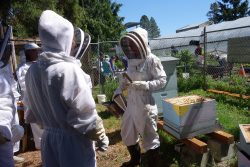 Edmonds College provides our students with the unique experience of participating in the Bee Club. The Edmonds College Campus Farm is home to a honey bee colony, where the insects help pollinate plants. Mary Whitfield (Chemistry faculty) serves as the faculty advisor. You can learn more about the Bee Club and other clubs at Edmonds on the clubs and organizations page.
TOP