What Students Say
Visit our Facebook page and Instagram page featuring the experiences from Edmonds College students currently overseas.
David Tat | Fall Quarter in Tokyo, Japan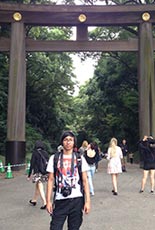 Describe your trip: My trip was definitely a life changer. It gave me a deeper appreciation of a different culture and taught me more about myself, not only as a student but as an individual. I made a bunch of new friends, created meaningful relationships with them, and learned so much about myself that I never knew before. I've always wanted to study abroad, Japan in particular, and this experience was just absolutely amazing. The food, the people, the culture, the faces you meet, and the experiences you have were just so worth it. The people In Japan are friendly and nice. Every day was an adventure. I got to travel so much, even on school days. I saw famous attractions, popular districts, restaurants, and so on.
What did you enjoy most? I enjoyed meeting new people and making new friends; they were beyond nice. The relationships I've built over this trip definitely made my trip worthwhile and all the more fun.
Would you go back? Of course I would like to go back. There is so much more I want to do and explore in Japan. And the friends I've made I'd like to visit. Japan truly was like a second home to me.
Where next? I'd like to visit more of Japan. I definitely want to visit up north in Hokkaido and west to Kyoto just to sightsee and experience the Japanese culture there. Don't get me wrong the greater Tokyo area was lovely but there is so much more to Japan than the capital city.
Any advice? Don't be scared or embarrassed that your Japanese skills may not be up to par. It's ok! Many things are in English in Japan, the signs in the train stations are in English, and the maps are relatively easy to read and understand. So if you're interested, just sign up! Trust me, it'll be one of the best experiences in your life. So some real advice…
Don't underestimate transportation costs. Bring enough money. You will do a lot of traveling. I'm sure of that.
Join clubs. It's a great way to interact with Japanese students and make Japanese friends.
Don't slack off in your studies and homework. Get that done ASAP so you can have the rest of the day to travel and explore.
Be nice, be safe, and ultimately just have fun and enjoy your experience to the fullest.
---
Annalise | Fall Quarter in London, England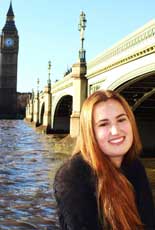 Describe your trip: It was a life-changing experience. It definitely gave me a new outlook on the world. I made many friends and got to see the world from a different perspective. I enjoyed that most the museums were free, and absolutely fell in love with the architecture. London is a magical city!
What did you learn? I learned to be more independent and more confident in myself. I found out that I can adapt to new situations and I believe that opens so many possibilities for my future in work and travel. I learned that doing things that scare you isn't always a bad thing and that experiences are worth so much more than you think they are at that moment.
Where next? I would love to return to London at some point. It has really become a home away from home for me. I would also love to check out more of Europe, especially Eastern Europe. A plane ticket anywhere would make me happy, to be perfectly honest!
Advice? I know for many people, including myself, the thought of leaving home for a long period of time is intimidating. But I promise once you get to where you are going, you will make so many friends and be so preoccupied with everything going on around you that those fears will disappear. I truly believe that study abroad is something everyone should experience. It changes you for the better.
---
Chloe Gandal | Fall Quarter in London, England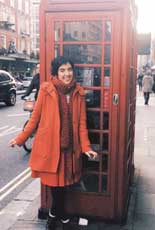 Describe your trip: My stay in London for the Fall quarter was an experience I will never forget. Between the wonderful culture, the bustling city life, and the opportunity to travel to other parts of Europe, everything about studying in London was great. London's unique personality made life there memorable, fun, and ever-changing.
What did you enjoy most? My favorite part of my London program is how simple it was to travel to other parts of England and Europe while studying there. I was able to visit Rome, Milan, Paris (twice!), and Barcelona, along with various parts of the UK, after classes and on weekends.
Would you go back? Absolutely! I am eager to go back and visit my new favorite city.
Where next? I'm still trying to decide that, but hopefully, Asia will be next! I'm not tired of Europe, but now that I've visited a few major European cities, I'm ready for something totally new and different.
Any advice? Don't be shy about getting into the local culture. Whether that means visiting a pub, chatting up the barista at a coffee shop, or shopping for fresh fruits and vegetables at an organic open-air market, it's always great to meet new people and hear what they have to say about their city!

---
Damon Moody | 5 months in Nagasaki, Japan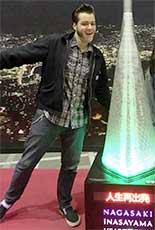 Describe your trip: My trip was amazing, one of the best, if not THE best, experiences of my life so far. Every week I got to do something fun, and I got to experience new things. I made many new Japanese friends, along with friends from other countries as well. I got to do unique things with the other exchange students through school field trips, new things with my friends, and going out to interesting places by myself. I went to multiple museums, historical sights, popular locations, a couple of festivals, and many good stores and restaurants. Typically I had school five days a week and had volleyball club twice a week. Nagasaki City itself is more of a slow-paced city. But there is still a lot to do, and it is very easy to get around by either walking or public transit. The people in Japan are very nice, and I really enjoyed the culture and customs they have. I remember loving the way the city looked as well. I liked to walk around sometimes and explore different streets and appreciate the distant forest surrounding the city.
What did you enjoy most? What I enjoyed most was meeting people and making new friends, learning about their culture, and going out and having fun with them.
Would you go back? For sure! I have many friends there, the people are great, and (I'm not the only one to say this) it has become like a second home.
Where next? That's a hard question. Since my trip to Japan, I do want to travel more now. It's hard to choose where I want to go next. In Japan, I want to visit Hokkaido and Okinawa because of their uniqueness compared to other parts of Japan. I want to go to Hiroshima to view the related WWII history sights there since I saw Nagasaki's atomic bomb museum and monuments. But I also want to visit Thailand, South Korea, or China to visit my friends who live there and experience those cultures. I guess only time will tell where I go next.
Any advice? To future students considering signing up for the program but are worried about their language skills, if you want to do it, just do it! I was worried about just signing up at first, but I am beyond happy that I did so.
Stay on top of your homework, so it's easier to go out and have fun.

Try not to turn down any new experiences and try everything! Activities and Food.

Join a club! It's a great way to make new friends and improve your language skills.

If you embarrass yourself, don't worry! You're a foreigner, and people will understand.

Try to branch out a bit from the other foreign exchange students. It can be easy to want to stay around familiar people from home.

Explore! Go out and explore areas close and far from the dorm. See interesting things and maybe meet new people too!

Be as easygoing as possible and go with the flow.
---
Tehilla Ben-Sherman | Fall Quarter in Barcelona, Spain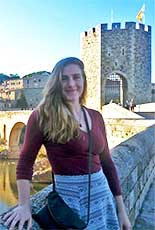 Describe your trip: Well, first off, it was amazing. Every day I woke up excited and ready for a new adventure. I didn't feel like I was in school at all, yet our history classes were interesting and fun. Hopping on trains and buses without a destination was by far the best feeling in the world. The SAE program did a great job of planning group trips to little towns in Spain. Overall it was extraordinary and eye-opening.
What did you enjoy most? The people, the landscapes, and hiking trails. The FOOD! The mountains! Montserrat is the most beautiful mountain I have ever seen, especially looking over the countryside of Spain.
Would you go back? After my study abroad program in Barcelona, I realized there is so much more of Spain that I want to see. I love architecture and language, and history, and Spain has had such a big influence across the globe. It is interesting to see the roots of the culture that at the beginning, I knew nothing about. Being abroad has also shown me how important it is to speak multiple languages, which is something I never understood before. I am continuing to become fluent in Spanish, and I want to learn French and Italian as well, and what better place to learn than in the country it is spoken.
Where next? Well, of course I wish I could go back to Spain. Next time I go, I plan to visit the northern Basque country, as well as Seville and numerous other towns. But for now, I will be finishing my BS in Architecture at WSU, and hopefully, in the future, I can work all over the world.
Any advice? GOOOOOOO! It doesn't matter how hard you have to work and how long it may take. It WILL be worth it. Also, stay as long as you can. Three months was not enough. Two years would have been better for me!
---
Johnita Denson | 18 Days in Beijing, China
Describe your trip: The trip was amazing. For starters, each of the participants from Edmonds was great to be with and friendly, so that helped. The experience of touring Beijing and the surrounding area was awesome.
What did you enjoy most? I enjoyed so many things I don't think I can choose one. I think above all, I enjoyed the experience of traveling and getting to know people from all over the world. I learned about as much Russian as I did Chinese
Would you go back? Yes. But I would love to visit other regions.
Where next? Europe.
Any advice? Keep calm and take lots of pictures. And I really learned that speaking the language isn't the only way to communicate.
---
Steven Kay | 18 Days in Beijing, China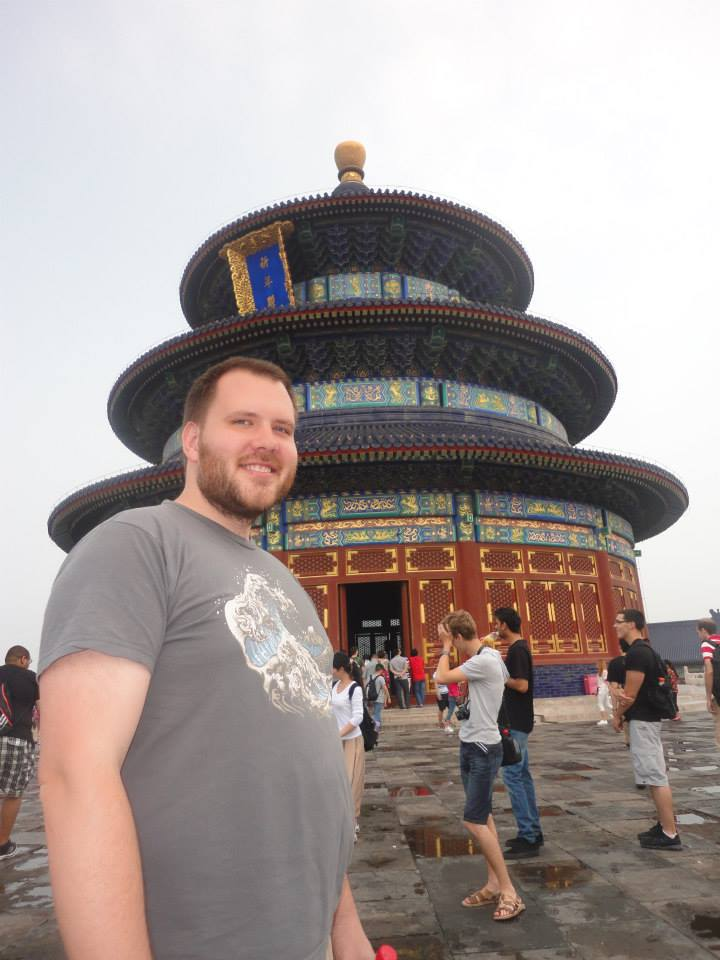 Describe your trip: Well, I went not really knowing what to expect. The first couple of days were a little bit overwhelming, not knowing where anything was or even my relative location in the city of Beijing, but once I started to venture out and explore, it became much less stressful. It was awesome experiencing a totally different culture, trying totally unfamiliar foods, and seeing amazing historical architecture.
What did you enjoy most? Probably all of the new foods I tried and the friends I made.
Would you go back? Yeah, definitely! It was a fun, eye-opening experience for me.
Where next? Thailand! I love me some Thai food. I want to see how it tastes in Thailand. Also, I heard that Shanghai was nice, and the food is more similar to American Chinese food.
Any advice? Do study abroad, and have fun! I'm the father of two young kids, so it was a miracle that I was able to go at all. If you have the opportunity to broaden your horizons, seize it! And don't be discouraged if you feel totally lost at first. That passes. Just keep forcing yourself to get out there and try new things and explore new places. It'll pay off, I promise!
---
Kayleigh Siaris | 10 Weeks in Cape Town, South Africa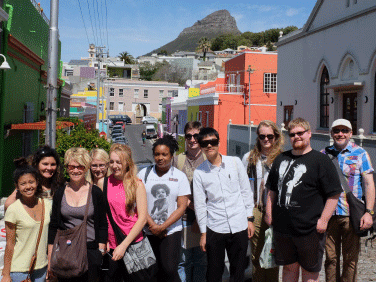 Describe your trip: The trip was absolutely amazing. It was life-changing. I saw so many wonderful things, ate great food, heard talented musicians, had interesting conversations, and met people that impacted my thinking.
What did you learn? I learned that culture in the States is not the absolute culture. Growing up in the same country all of your life, I think people automatically assume that their culture is worldwide. However, there are very distinct cultural divides that are present, and the more that we can recognize those, the more we can understand people and why they act or do the things that they do.
Would you go back? I would return to South Africa in a heartbeat and plan to. Realistically, I am looking at a couple of years until I can return. In the meantime, I will focus on college and saving to make it back! The country is gorgeous, the food is amazing, the people are so friendly, and life moves slower there. What's not to like?
Where next? Next, I would absolutely love to travel to India! Australia, New Zealand, Brazil, Greece, and the Middle East are also at the top of my list!
Any advice? My advice to someone interested in joining the program would be to be persistent and driven. Raising funds for the trip and the process you take with paperwork, etc. can be daunting, but if you stay motivated and positive, things will fall into place. There were several occasions in which I didn't think I would be able to fund the program, but I stuck with it and made it happen.
---
Peter Munger | 10 Weeks in Valencia, Spain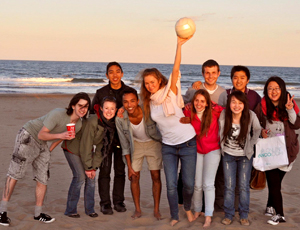 Describe your trip:
Amazing. It was one of the best experiences of my life.
What did you learn? I gained confidence since I was able to adapt in a foreign country on my own successfully.
Would you go back? Yes! I know I will go back.
Where next? I'm not sure yet, but I plan to return to Europe, especially Spain.
Any advice? If you're considering it, do it! Before you go, try to learn the language and learn about the place you will be staying. Also, make other trips while you're there. Travel and Study Abroad will change your life!
---
Tony Stockl | 10 Weeks in Florence, Italy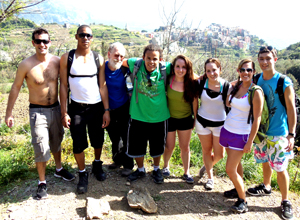 Describe your trip: Enchanting!
What did you learn? More in those 10 weeks than in my entire life – culture. I found my identity there.
Where next? Havana, Cuba. Once you study abroad, you can't stop.
Would you go back? Of course! I plan on teaching English in Florence in two years then, hopefully, the rest of my life.
Any advice? Don't be cautious of asking for more financial aid if you can't afford it. Other than that, believe me when I say that studying abroad will change your life for the better. Also buy your own groceries! But also try the authentic restaurants.
---
Kiersten Snel | 10 Weeks in Florence, Italy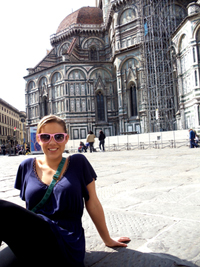 Describe your trip: Celebration of life!
What did you learn? Understanding and appreciating a culture that is so much older and richer than America's and seeing a way of life where you are and what you believe is more important than what you do for a living and what kind of car you drive.
Where next? Anywhere. I just love traveling and experiencing other ways of life and styles of living.
Would you go back? Absolutely! I plan to return to teach in Florence after obtaining my teaching degree.
Any advice? Do it! It is the best kind of education any student can hope to receive to learn about life firsthand and not just through a book.
---
Sarah Landsberg | 10 Weeks in London, England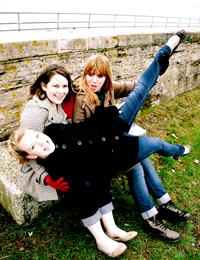 What did you learn? A lot about myself and others that made it completely worth it. It opened my eyes to so many different places and experiences.
Where next? Back to the UK or France. However, there is a chance I might be studying in Italy and Greece soon.
Would you go back? In a heartbeat!
Any advice? Go. Follow your own path, even if the place you choose seems cliché. There is nothing like living and experiencing a new country.
TOP