About Us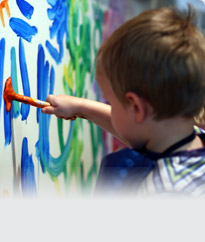 Since 1983, Edmonds College has contracted with the Department of Health and Human Services (HHS), Administration for Children and Families (ACF), Office of Head Start, Region 10 to operate the only Head Start program in Snohomish County. In 2002, Edmonds College was awarded the Early Head Start contract for the City of Everett.
Edmonds College Head Start/ECEAP and Early Head Start is a free, federally funded program that provides comprehensive child development, early learning and parent support services to low-income families with children birth to five-years-old. Our service focus is:
to enhance children's physical, social, emotional, and cognitive development, and
to strengthen parents' self-sufficiency and parenting skills.
Parents share in the decision-making with our management and Edmonds College in developing, monitoring, and evaluating Head Start/ECEAP and Early Head Start services and policies.
Head Start serves three- and four-year-olds in a center-based program at eleven locations, including Edmonds College's Center for Families and two childcare centers in Snohomish County.
Our infants and toddlers receive Early Head Start services in a home-based program, which includes group socialization experiences twice a month at two of our Head Start centers in Everett.
Collaboration with other agencies is essential to ensure that we can provide integrated, comprehensive, education, disabilities, health, nutrition, and mental health services to enrolled children and families. We work with parents to maintain current medical and dental exams, obtain needed treatment, and stay current with their children's immunization schedules. We administer developmental, height, weight, vision, and hearing screenings to infants, toddlers and young children and, if needed, follow up on areas of concern. Parents and staff work together to secure services from the health care communities, Part C agencies, and their local school district.
All children who attend Head Start/ECEAP and Early Head Start receive meals and/or snacks made possible through a contract with OSPI-Child and Adult Care Food Program.
TOP