Edmonds CC hires new Dean of Student Enrollment and Financial Aid Services
08/05/15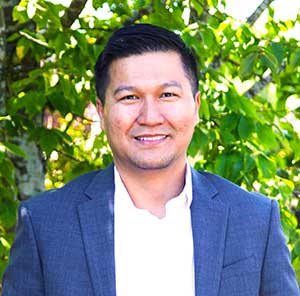 Sy Ear
Edmonds College hired Saovra "Sy" Ear as the new Dean of Student Enrollment and Financial Aid Services.
In his new role Ear will:
provide leadership and vision for Student Enrollment and Financial Aid Services,

develop and lead the creation of a Welcome Center, in which entry processes are available at one location and meet the dynamically changing needs of a diverse student body and community,

work with directors to ensure compliance with federal and state rules and regulations in all processes,

oversee and allocate resources for: Financial Aid Services, Admissions, Enrollment Services, Records and Reporting, Veterans' Resource Center, Testing Center, and Running Start, and


utilize data and outcomes to enhance and innovate programs that support student entry and increase persistence and completion.
"I would like to improve the student experience by looking at new and innovative ways to streamline our processes and remove barriers to success for underrepresented and underserved students," said Ear.
Prior to Edmonds CC, Ear was the Director of Career and Advising at Green River Community College, where he provided leadership for first-quarter advising, mandatory orientation, early alerts, English Language Learner (ELL), entry coding, and academic standards.
Ear has over 15 years of administrative experience working in advising, new student orientation, and financial aid at three community colleges in Washington State.
He has held positions in new student orientation, advising, student conduct and ELL transition services at South Seattle College, and as a financial aid coordinator at South and North Seattle Colleges.
Ear is passionate about the field of education because, "I believe in the mission and vision of community colleges to provide opportunities to populations that may or would not have otherwise had the chance," said Ear.
He is dedicated to supporting student success through policy implementation, advocacy, and innovation.
Ear earned his Masters in Education with an emphasis on student development and administration. Ear holds his Bachelor of Arts from University of Washington in sociology and ethnic studies.
He is pursuing his educational doctorate with an emphasis in educational leadership from University of Washington-Tacoma and plans to be done in Spring 2016.
Ear's first day at Edmonds CC was June 8.
What motivates him? "Serving the students and seeing them succeed. One of the most rewarding days we have is watching students walk across the stage at commencement and watching them reach their intended goals, whether that is transferring to a four-year school or gaining employment."
TOP