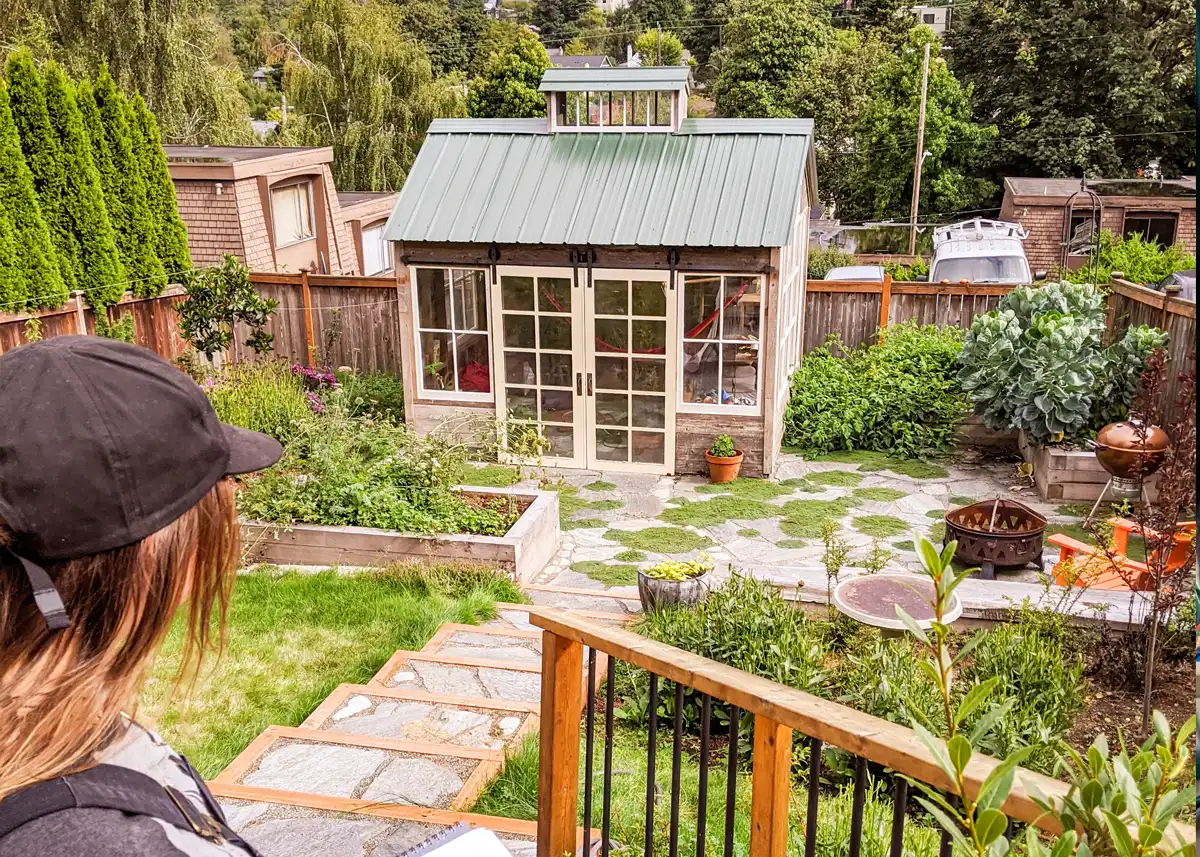 PERMACULTURE REVOLUTION
You can now virtually tour some of the most respected farms in Washington, thanks to two horticulture grads
---
When Andrew Tuttle and Mary Marshall enrolled in Edmonds College's horticulture program in 2018, they were both recovering from experiences of stress and grief. Tuttle was looking for a new career after serving in the Marines; Marshall was dealing with a sudden family tragedy.
"At Edmonds, we found an incredibly supportive community," said Tuttle. "Alejandra Feliciano is a fantastic instructor, and she built our foundation in horticulture. Lorraine Brooks is a hero to us. We've never met someone who is a more hardcore advocate for her students."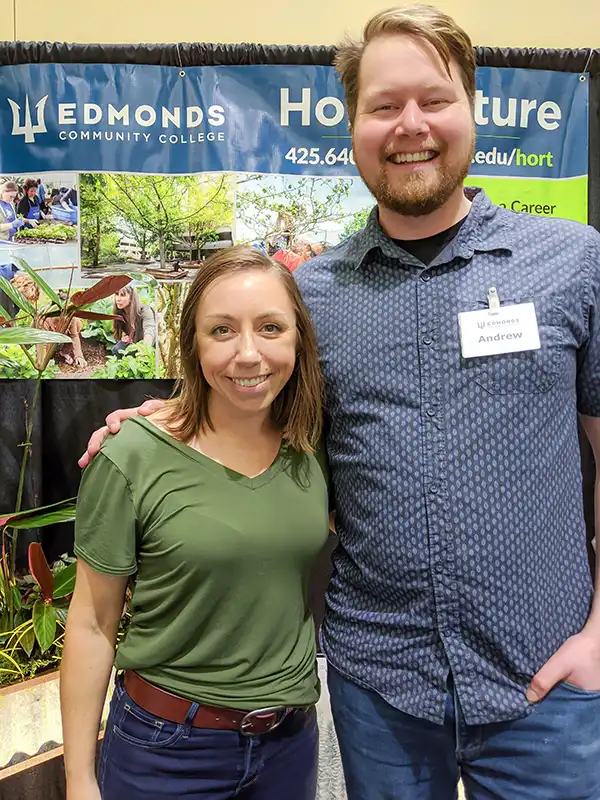 Tuttle and Marshall volunteering at the Edmonds booth at the NW Flower and Garden Show in 2020.
While at Edmonds, Tuttle and Marshall started their own business, Redtail Edge Design. The company specializes in permaculture, which is an approach to design that draws inspiration from natural ecosystems. Their portfolio includes homesteads, farms, and wildlife habitats.
In 2020, Redtail took a new direction in response to the COVID-19 pandemic. While Tuttle was teaching a permaculture design course at Edmonds, he was forced to move his class online. He soon realized that his students were going to have huge gaps in their learning experiences if they couldn't visit farms.
"Touring sites, seeing farms in person has been the most important part of my learning journey," Tuttle said. "Any farmer starting out is going to go see as many farms as possible to get ideas. When we couldn't do the tours, it was a sticking point that we had to overcome."
Inspired, Tuttle and Marshall decided to develop virtual tours that would be accessible to aspiring permaculture designers around the world.
Three years later, they're now launching a company that does just that: Edge Perma. Their immersive tours include 3D models, video walkthroughs, maps, explanations of farm systems, and interviews with farmers.
The company's first two tours feature some of the most respected permaculture farms in Washington, Beacon Food Forest and Inspiration Farm. The company also just launched a Kickstarter to fund a tour of Siskiyou Seeds in Oregon.
For Tuttle and Marshall, affordability is a guiding value for their business. Their Beacon Food Forest tour is free, and their Inspiration Farm tour is available for $25. Ultimately, they hope to secure grant funding that allows them to offer most of their content for free.
"The knowledge base gained while at Edmonds was instrumental in leading us to where we are now," said Marshall. "Learning how we can heal the planet has been a passion of mine for the last decade, but learning how to do that professionally from incredible instructors at Edmonds has been life-changing."
TOP