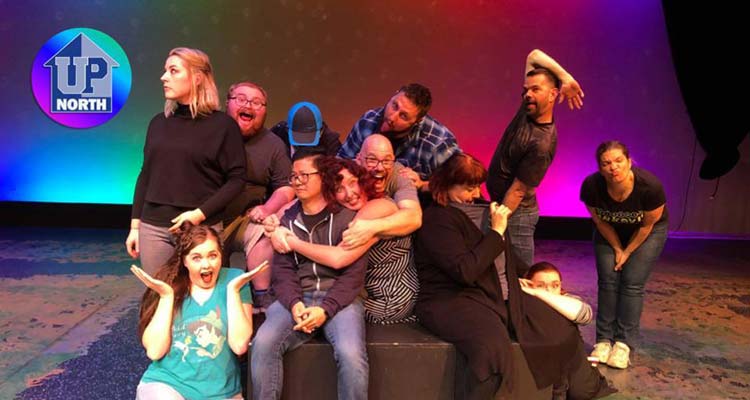 ABOUT UP NORTH PLAYERS
UP North Players is a tightly knit group of professional improvisers based out of the Black Box Theatre who love to perform and make people laugh. UP North Players are bound by the principles of improvisation: acceptance and inclusion and are driven to create character and relationships grounded in truth and trust. UP North Players are committed to bringing quality improvisation to the north end through creative, immersive and often humorous performances. UP North Players are experienced in many forms of improv including genre work, musical improv, long form narrative style and
Unexpected Productions brought improv to the north end during renovations to their Seattle based theater in 2012. UP North, once established, has persisted with weekly shows between October and April for the last 8 years. A resident team was established in 2018 under the direction and vision of Jen Matthews. This team has since created 7 original shows including Slam Dunk their headline competition show. Other fan favorites include Fiasco! based on the board game and the Holiday Whodunit murder mystery.
UP North Players is a diverse and talented group of performers consisting of actors, artists, data analysts, educators, flight attendants, lawyers, musician, nurses, pod casters and college students. UP North Players are from all different backgrounds and represent all genders and all lifestyles. UP North Player is proud to have so many talented members who use their life experiences to create moments of laughter that will last a lifetime.
HEAR WHAT PEOPLE ARE SAYING ABOUT US!
"Love the show and have invited several friends! Great family friendly fun!" - anonymous
"Such a fun, energetic night! Very intimate feeling. So happy to have quality entertainment without driving all the way to Seattle!" - Dawn R Goodwin
"We googled things to do on a Saturday in the area and this popped up. We have come 3 weeks in a row since!" -anonymous
TOP