A university on our campus
A university experience for you.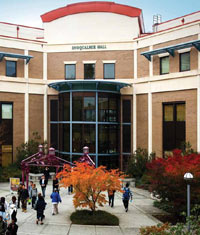 Central Washington University (CWU) offers many four-year Bachelor's degree programs on the Edmonds College campus, including accounting, business administration, information technology and administrative management, law and justice, and social sciences. CWU also offers a master's degree program in accounting.
Edmonds College and CWU students attend classes in the same building and experience university life together in the library, cafeteria, and the residence hall, Rainier Place.
Learn more about the CWU-Lynnwood.
TOP