GYMNASIUM & Facilities
Facility Rental Packet (.pdf)
Small Market Meetings magazine named Edmonds College one of its sports facility "Field of Dreams."
Any questions? Please contact Rey Corujo at 425.275.6233 or rey.corujo@edmonds.edu
Edmonds College Rental Facilities
Edmonds College thanks you in advance for considering our athletic facilities to host your event(s). The Edmonds College athletic programs have the opportunity to use some of the best athletic facilities in the Northwest. With the addition of a $2.5 million multisport field turf complex, and a gymnasium that can accommodate various activities, we are confident our facilities will fit your needs.
Seaview Gymnasium – SEA 118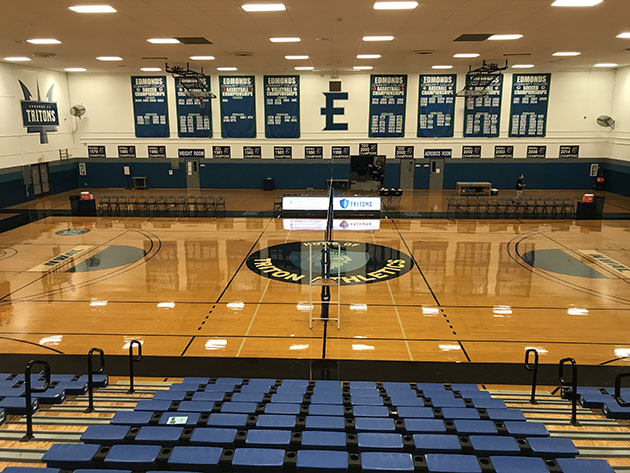 The Edmonds College gymnasium is a 14,200-square-foot hardwood facility that can be used for a variety of events. The gym can be set up to accommodate two full-court basketball courts that work well for tournament play. The gym can also be used as one premium college-sized floor in which bleachers can be pulled out to seat 547. Edmonds College also has a great venue to accommodate volleyball, with the flexibility to set up three full volleyball courts and the capability of hosting tournaments and team practices. Bleacher seating can be used with the two court set up. Seaview Gym has been used for karate tournaments, MMA fighting, roller derby, and many other events.
Triton Field – PLY 001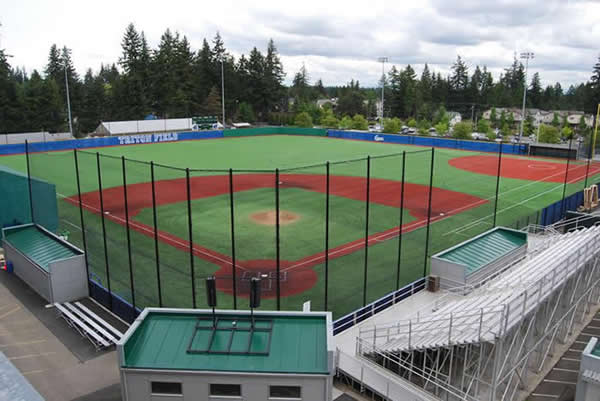 Edmonds College's Triton Field is one of the finest outdoor athletic facilities in the Northwest. The 120,330 square foot, $2.5 million multisport complex consists of 100 percent field turf, excluding the pitcher's mound. It can accommodate baseball, softball, and soccer, and has two large press boxes at the baseball and softball backstops. Individual stereo systems and high quality speakers can be found on top of each press box. There are also two scoreboards placed off the North fence that function for soccer, baseball, and softball.
The baseball field dimensions are 314 feet down the lines and 418 feet to dead center field. The bullpens are located just beyond the right field fence.
The soccer field is one of the largest in Snohomish County (330x120 feet). We have four mobile soccer goals on site for practice, so the field can be used by club teams of various ages at one time.
The softball backstop is located in the Southeast corner of the complex. In 2017, new portable state of the art fencing was purchased to enclose the field. The dimensions for the fenced field is 210 feet all the way around.
Gym Classrooms – SEA 101 and 121
The gymnasium also consists of a mediated classroom (SEA 101) with seating for 36, and an aerobics room (SEA 121) complete with full mirrors and hardwood flooring. The classroom is an ideal meeting space, officials room, team room, or locker room. The aerobics room is multi-functional and can be used as a team space, meeting area, or for event staging.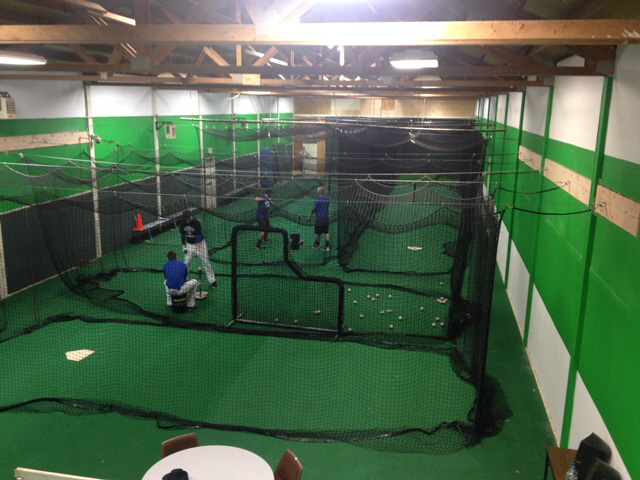 Indoor Hitting Facility – IHF 100
Located just off the third baseline of Triton Field is the indoor hitting facility. Four heaters warm up our facility in the winter, which boasts two 70-foot cages and two 35-foot cages. The options are endless for practice. Edmonds also supplies six large screens and two indoor bullpen mounds.
General Info
Gym: 14,200 square feet
Gym capacity: 900
Bleacher seating: 547
Microphone and stereo setup that accommodates cd's, and aux cord for music to be played from IPod or phone.
Indoor facility: 4,860 square feet
Number of cages: Four hitting tunnels (two that are stationary at 70 feet, and two 30 foot cages that are mobile and can be slid back to create a meeting area or for small team drills.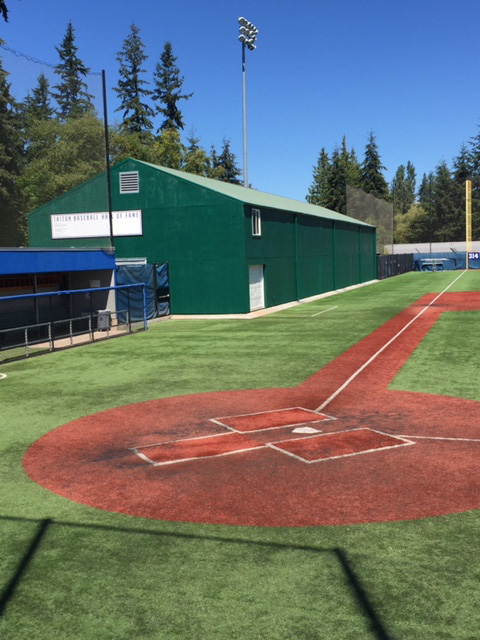 Triton Field
Sports: Baseball, softball, soccer
Please contact the Athletic Department at athletics@edmonds.edu or give us a call at 425.640.1415 if you would like to schedule an appointment to see our facility, or if you have additional questions.
Please review our Facility Rental Packet.
Thank you,
Edmonds College Athletic Department
425.640.1415 | athletics@edmonds.edu
Seaview Gymnasium 102C
TOP