Softball
The Tritons have won seven region titles and took home the NWAC championship in 1980. Additionally, Edmonds College has six NWAC top four finishes, the most recent in 2019 (2nd). Softball's home yard, Triton Field, is an on-campus turf facility that is arguably the best in the NWAC.
---
Softball opens NWACs Thursday in Spokane
Edmonds College softball opens the 2022 NWAC Championship Tournament on Thursday, May 19 in Spokane, Wash. The double elimination tournament is being held at the Dwight Merkel Sports Complex. The Tritons are the No. 13 seed and will face a familiar foe in Everett CC, the No. 4 seed, at 12:30 p.m.
Regardless of the outcome in the first one, the Tritons will play again Thursday at 5:30 p.m. Only the main field is being live streamed so there is no option to watch, however live stats can be found here and we will keep our Twitter updated as much as possible.
Triton softball has qualified for the NWAC Tournament the past five years in a row. This is the first time the tournament has been held since 2019 due to COVID-19.
---
Softball sees win streak end but upends BC
LYNNWOOD -- Edmonds College softball has turned a corner of late. They rode a five-game win streak into their series with North Region leader Bellevue, and turned that into six before dropping the back end of a doubleheader Friday night at Triton Field. Kennedy West fired another complete gate shutout, allowing just 2 hits and fanning 6 in a 3-0 game one blanking. Taiana Round went 2-for-3, Nanea Andrade scorched a 2-run double, Mikayla Johnson had a solo homer, and Anna Fridell gunned out two Bulldog runners on the bases. In game two, Andrade was 3-for-4 with 2 RBI; Round and West both went 2-for-4. The Tritons lost 14-5.
After holding down the No. 14 or 15 RPI spot for most of the month of April, the Tritons recent success has bumped them up to No. 12 in the rankings. The top 16 teams qualify for the NWAC Championship Tournament in Spokane, Wash. May 19-22.
---
Nanea Andrade: NWAC Hitter of the Week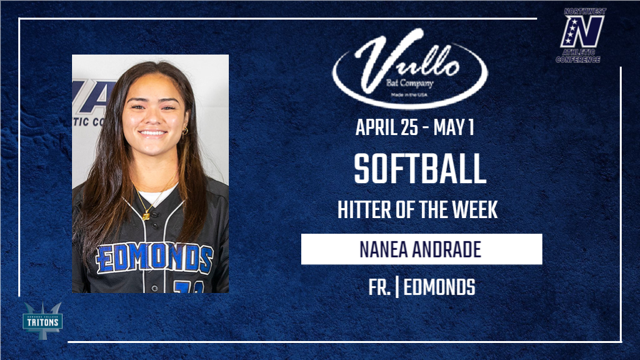 Congratulations to Nanea Andrade who received NWAC Softball Hitter of the Week honors! Last week Andrade went 9-for-15, helping Edmonds run off a five-game win streak.
This year she leads the team in batting average (.431), home runs (6), and RBI (29), and has been a mainstay in the infield defensively.
---
Grizz Stevens leads EC softball into new era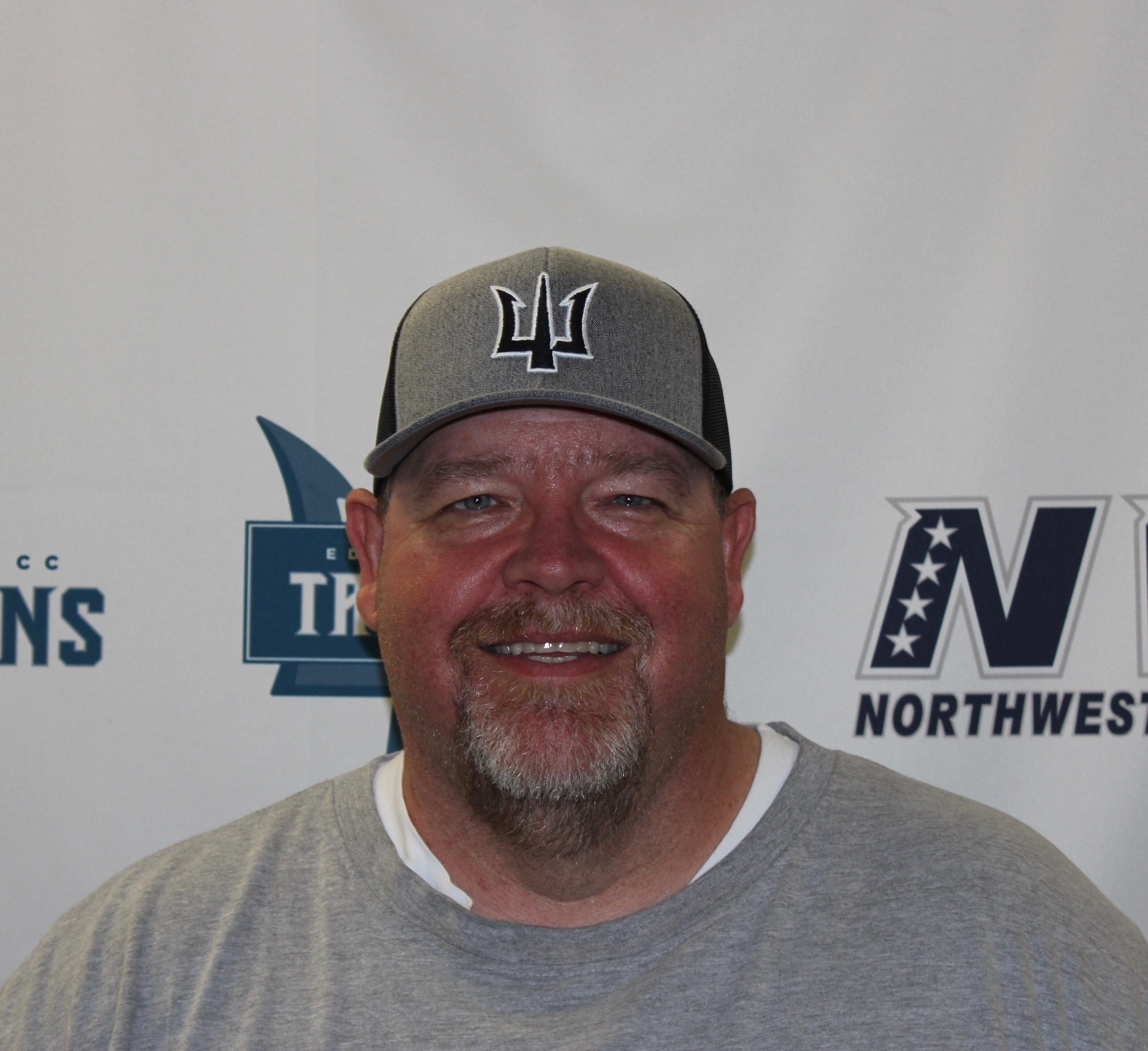 LYNNWOOD – Daryl "Grizz" Stevens hit the ground running when he was hired to coach the Edmonds College softball team in the fall of 2021. He brings enthusiasm, a plan for success, and a winning background to the program.
The Tritons' new leader was the head coach at Lake Washington High School in 2020 and 2021. He also served as the head coach at Cascade High of Everett in 2019 after being an assistant for 2018 4A state champion Jackson High School, who was ranked No. 11 in the country that season.
Everywhere he's been, his teams have been successful.
"Grizz has a vision and plan for his program and he's been executing that plan every single day," said athletic director Spencer Stark. "Triton softball is in good hands. He is building a comprehensive program that will help our student-athletes grow on and off the field."
---
Softball sweeps Cardinals
Edmonds softball got back in the win column on Wednesday night with a doubleheader sweep of Skagit Valley. Trailing 6-0 after the top of the 1st inning, the Tritons completed the comeback to win the first game 10-6. Nanea Andrade was 3-for-4 with 4 RBI; Brynn Webster was 2-for-3; Anna Fridell drove in two runs.
In the nightcap they picked up where they left off and cruised to a 13-0 five inning run-rule victory. Nadia Delzer collected wins in the circle both games -- she struck out 13 Cardinals in 11 innings of work. Brynn Webster was 2-for-2 and belted a 2-run homer; Kaimana Manzano had 2 hits; Nanea Andrade put together another 3-for-4 performance, and Anna Fridell drove in 3 more runs. Edmonds' game at Bellevue Saturday has been canceled due to COVID-19 protocols. Next up: Olympic College comes to Triton Field on Friday, April 23 for a 11 a.m. twinbill.
---
Delzer tabbed as NWAC Player of the Week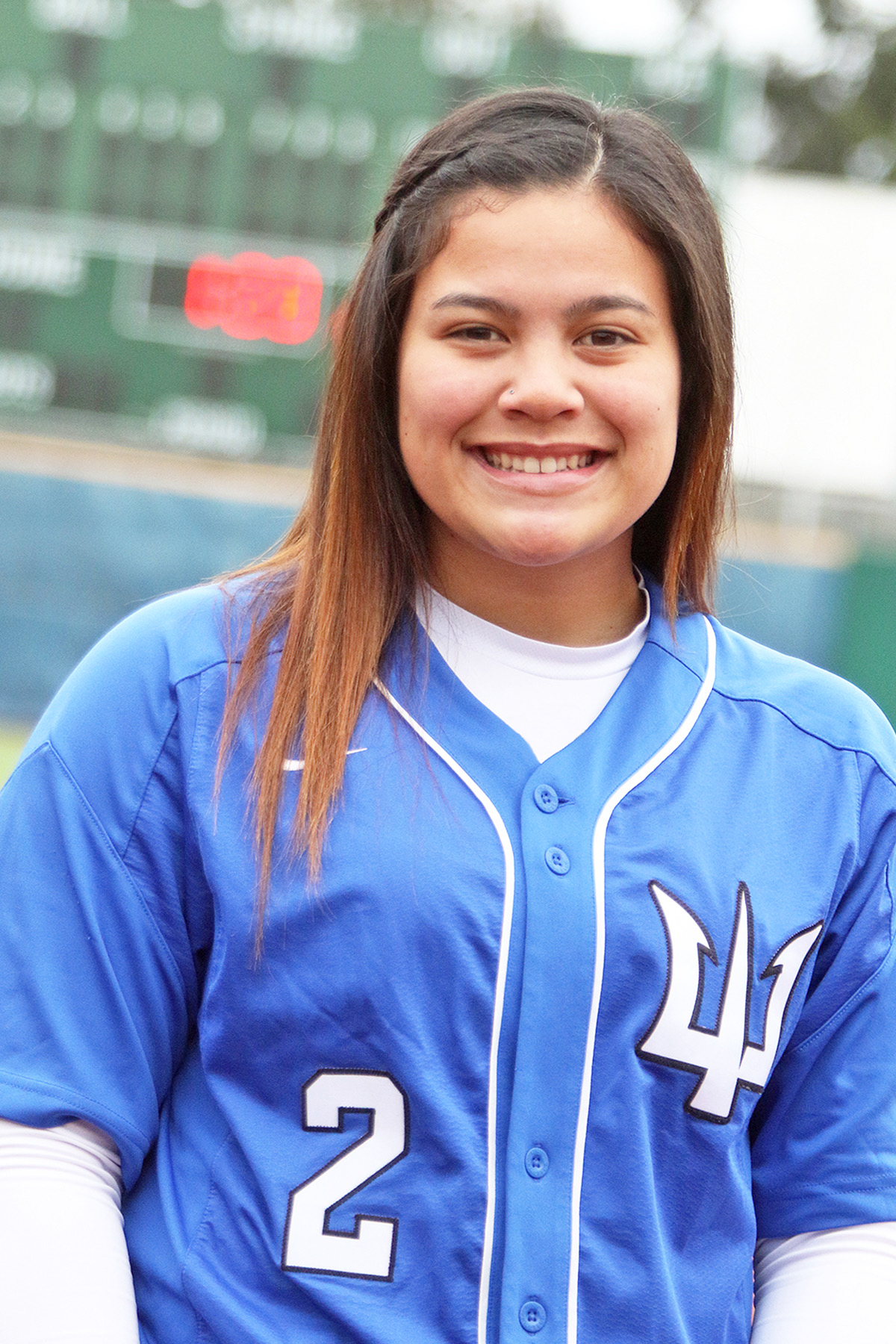 Softball freshman Nadia Delzer was chosen as the NWAC Softball Co-Player of the Week, as announced by the conference office on Friday, April 9. Delzer, a two-way player, helped lift Triton softball to a doubleheader sweep of Olympic College last week.
In the circle the first game, she hurled a complete game victory allowing only 1 hit, striking out 10 batters. Combined in both games of the twinbill Delzer went 6-for-7 at the plate with 6 runs scored and 2 RBI.
---
NWAC officially cancels spring sports
March 17, 2020 | VANCOUVER -- The Northwest Athletic Conference (NWAC) has made the decision to cancel all spring sport competition and NWAC Championship events, effective immediately. There are many questions about what will happen for our current spring sport student-athletes. The baseball and softball programs have been notified and are in communication with their head coach and the athletic director. This is an evolving situation with many moving parts. There won't be answers to all questions for some time ahead. The NWAC has posted a FAQ page that is very helpful. Read More > >
---
Softball Releases Fall Schedule
New Edmonds College softball head coach Ashley Lokey has announced her 2019 fall ball game schedule. The Tritons will square off at three NCAA schools on consecutive weekends starting with NCAA DII Western Washington University on September 28. On October 6 they travel to NCAA DI Seattle University and close out the slate at NCAA DI Portland State University on October 13. Fall Ball Schedule >>
---
Ashley Lokey named head coach of Edmonds College softball
LYNNWOOD -- Ashley Lokey has been selected as Edmonds College's new head softball coach and assumes the position immediately. Lokey spent the last two years as an assistant at NCAA DI Seattle University, helping the Redhawks to their first NCAA Regional appearance in the program's history. Seattle U was 73-40 in her two years there, which included the school's first Western Athletic Conference (WAC) regular season and tournament title this spring. Seattle U notched 40 wins (school record) in 2019 and was the first WAC program to win an NCAA tournament game since 2015. Lokey helped with recruiting, coached first base, worked primarily with the team's lefty slap hitters and outfielders, and organized camps. Read More > >
---
Softball places second overall in NWAC
Team 41 wins 41 games and finishes as runners up at NWAC Tournament
SPOKANE -- The Edmonds College softball team finished second at the NWAC Championships, losing in the title game to North Idaho College. Interim head coach Chuck Stark guided the Tritons to a 41-10 record and the team's highest finish since 1998. Edmonds went 4-2 over the weekend in Spokane, topping Columbia Basin 7-6, Olympic 5-4, and Douglas 3-0 before falling to North Idaho 6-3. The Tritons regrouped and mounted a wild comeback for the ages on Championship Monday, downing Douglas 10-9 after falling behind 8-0 in the first inning. Edmonds lost to North Idaho 9-1 in the title game.
Four players were named to the All-Tournament Team: Sophomore outfielder Shanelle Lum, freshman utility player Kayla Hensley, freshman pitcher Cecilia Robbins, and freshman infielder Rhilmina Sagapolutele. On Thursday night at the Championship banquet, All-Region and All-American teams were announced and the Tritons were well represented.
Edmonds North Region All-Stars: 1st Team -- Ciena Kauhi (INF), Chantelle Shimabukuro (INF), Kamalei Labasan (OF), Liliola Vehikite (OF), Prestyne Kaimi-Montira (C), Rhilmina Sagapolutele (UTL); 2nd Team -- Cecilia Robbins (P), Kalei Cacho-Kekahuna (INF), Shanelle Lum (UTL), Staisa Micky (DH/DP).
Freshmen catcher Prestyne Kaimi-Montira and freshman shortstop Ciena Kauhi were named to the NFCA's NWAC All-American Team. Kaimi-Montira was also selected as The Diamond Catcher of the Year. She finished the year with 22 home runs, 78 RBI, and only committed one error behind the dish. Kauhi led Edmonds with a .477 batting average, which included five triples, 10 doubles, 35 RBI, and 65 runs scored.
Game recaps: Hensley's pinch-hit homer lifts Tritons past Hawks > > | Tritons mount comeback to advance in winner's bracket > > | Robbins shines as Tritons blank Douglas > > | Tritons title hopes still alive after 6-3 loss > >
Everett Herald: Tritons second in NWAC Softball Tourney > >
---
Aholelei accepts award at SnoCo Sports HOF
Former Triton softball star Seli Aholelei (Honolulu, Hawaii) accepted her award as the Snohomish County Sports Commission Female Collegiate Athlete of the Year on September 19 at the Angel of the Winds Arena in Everett, Wash. Aholelei, who is now a junior at Western Washington University, rewrote the record books as a Triton softball player the past two years. She finished her Triton career as one of the most decorated in Triton Athletics history. Aholelei is now the program leader in home runs (34), hits (147), runs batted in (130), runs scored (139), batting average (.510), pitching wins (43), strikeouts (334), and no hitters (4).
Edmonds softball tied the school record for wins (35) in 2017, and topped that in Seli's sophomore year with 42, capturing the school's first North Region crown since 2004. She was a NFCA NWAC All-American both years at Edmonds, and was the 2018 NWAC North Region Pitcher of the Week.
---
Chuck Stark appointed interim softball head coach
Chuck Stark has been appointed as interim head coach of the softball program at Edmonds College. Stark takes over for Sheryl Gilmore, who was named the new skipper of the Western Washington University softball team last week. Stark, who is retired, comes to Edmonds after coaching at Olympic College for five years. The Rangers qualified for the NWAC playoffs four times during that stretch. "Chuck was the best fit to stabilize the program and allow us to accomplish our long-term objective of hiring an outstanding head coach for the future." Read More > >
---
Sheryl Gilmore named WWU softball coach
Sheryl Gilmore has been tabbed as the new Western Washington University head softball coach. Gilmore, who is a Western grad, will return to lead the softball program at her alma mater. In her four years at the helm of Triton softball Gilmore led her teams to a 106-60 record. Edmonds took the North Region title in 2018 and placed 3rd overall at the NWAC Tournament. Read the Full Story > >
---
Softball places 3rd in NWAC
Team ends with record 42 wins, North title, and highest finish since '98
Edmonds softball's successful run ended on Monday, May 21 in Spokane as the Tritons fell to Lower Columbia College 7-1 on Championship Monday. The Tritons took 3rd place in the NWAC and finished a magical run in which it set a new school-record for wins, captured the North Region title for the first time since 2004, and achieved its highest finish at the tournament in two decades. Seli Aholelei, Chantelle Shimabukuro, and Tamia Hirano were named the All-Tournament team. Read More > >
---
NWAC Softball title decided today
SPOKANE -- Edmonds' softball comeback fell short against No. 1 ranked North Idaho and if the Tritons are going to win the school's first NWAC championship since 1980, they are going to have to do it the hard way. A 7-5 setback against North Idaho in the late game Sunday dropped the Tritons into the losers' bracket. Edmonds needs to win three straight on Monday, starting with an 11 a.m. game against Lower Columbia (41-13). The Tritons beat LCC 17-10 earlier in the tournament. The winner advances to the championship round and must beat North Idaho (49-3) twice to secure the title. Read More > >
---
Edmonds College softball team has island flavor
The Edmonds College softball team was featured on the front page of The Daily Herald on Tuesday, March 13. The program's rise to success is due, in part, to the recruiting connection they have established in Hawaii. Last year's Hawaiian sophomores Paige Matsuki and Kamryn Kanae have moved on to four-year schools, and this year's squad is already off to a strong 10-3 start. Read More > >
---
Triton softball hosts Veterans Day camp
Edmonds College softball is holding a camp on Saturday, November 11, 2017 at Triton Field. Check the links below for additional information.
CAMP FLYER (.pdf) | CAMP REGISTRATION (.pdf)
---
TOP