Softball News Archives
Softball Adds Three More Wins, Improves to 8-1
Triton Softball continued a successful start to the 2018 campaign, winning three of four games at Bellevue College this past weekend against South region opponents Chemeketa CC and Southwestern Oregon CC. On Saturday Edmonds topped Chemeketa 13-5 in six innings and later drubbed Southwestern Oregon 9-1 (6). The SWOCC Lakers handed the Tritons their first loss of the season on Sunday, 6-4, but Edmonds responded with a blow out 21-1 (5) victory over Chemeketa.
Softball is now 8-1 as they prepare for the Inter-Region Tournament this weekend at the Regional Athletic Complex in Lacey. When the schedule is released, we will announce it on our social media.
---
Softball Returns from Richland 5-0
Edmonds College softball started the 2018 slate in perfect fashion, taking five wins in the NWAC Preseason Crossover Tournament in Richland. The Tritons downed Big Bend (15-8) and Columbia Basin (11-7) Saturday, and won three more games on Sunday: Yakima (8-0), Walla Walla (6-3), and Blue Mountain (13-3). Freshman Riley Sykes threw a no-hitter against Yakima, and sophomore hurler Seli Aholelei had an 11-strikeout gem against Walla Walla on Sunday.
Triton softball will play South region opponents Chemeketa CC and Southwestern Oregon CC in a round robin tournament at Bellevue College this weekend. All games are being played at Bellevue College's new turf facility below the baseball diamond. Bleachers have not yet been installed so plan to bring chairs if you're headed to the games this weekend. Any weather-related changes will be announced via the Edmonds College athletics twitter (@edmondstritons).
---
Softball Shows Well at Fall Classic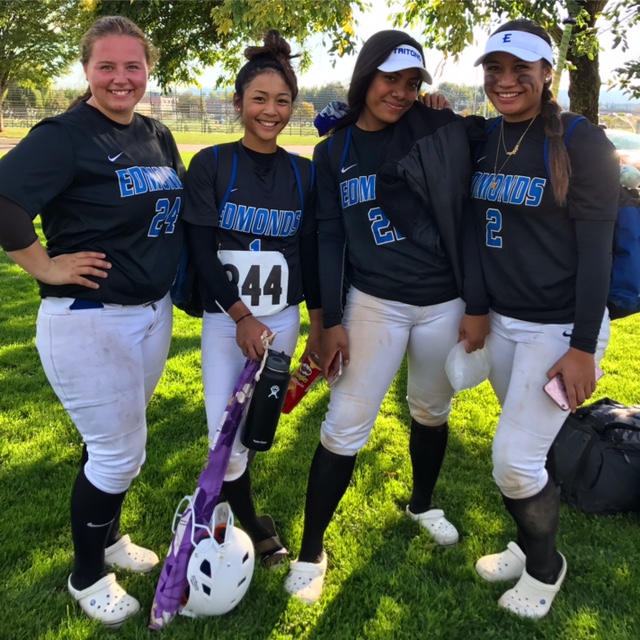 Edmonds College softball faced their first opponents of the fall this past weekend at Portland's Delta Park. Many NWAC schools (16) were represented, and there was a showcase for selected sophomores. Edmonds fared well against two South region NWAC Tournament qualifiers from a year ago in Fall Classic games against Chemeketa and Clackamas. The four Triton sophomores who participated in the showcase were (pictured from left-to-right): Ashley Gregory (C/3B), Tamia Hirano (INF), Seli Aholelei (P/UTL), and Chasity Stalcup (P/OF).
---
Triton Softball Ends Record Season
The Edmonds College softball team started the NWAC Championships on a good note with an 11-2 victory over Chemeketa CC, but that would be the only taste of winning the Tritons would experience in Spokane this past weekend. Edmonds lost a back-and-forth contest to the 4-seed Clackamas CC in their second game Friday, and dropped a loser-out game to familiar foe Bellevue College on Saturday to end their season.
---
Softball opens NWAC Championships against Chemeketa
Edmonds College softball begins the NWAC Championship tournament in Spokane Friday and will face Chemeketa CC in their first round matchup at 12:30 p.m. The Tritons finished in second place from the North region. Read the full story here > >
---
Tritons Notch Sweep of South Puget Sound
LYNNWOOD -- Thanks to an explosive offense and gritty relief pitching from Madisyn Napier, the Edmonds College softball team recorded a sweep of South Puget Sound Friday afternoon at Triton Field, 14-9 and 15-14(8). Read More>>
---
Edmonds College Splits DH with Green River
LYNNWOOD – The EdCC softball team snapped a nearly five-year losing streak when they defeated Green River 9-8 Tuesday afternoon at Triton Field. It was the team's first win under new head coach Shawna Juarez and the program's first victory since April 5, 2009. Read More>>
---
Lady Tritons Visit Seattle Children's Hospital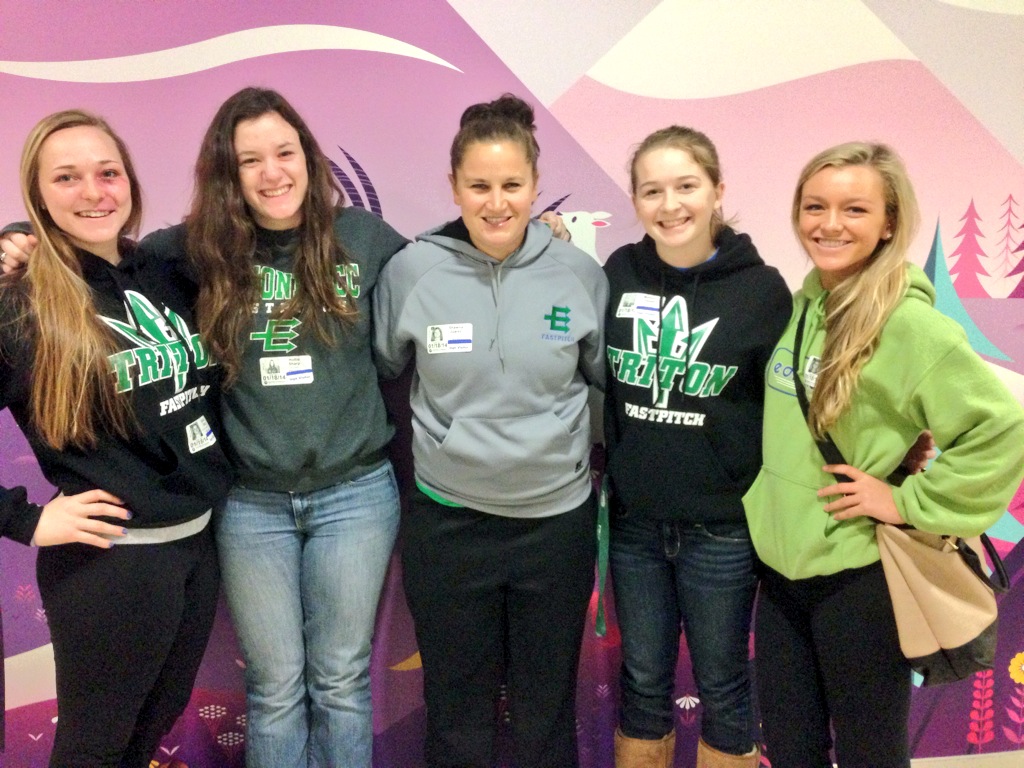 On Saturday, January 18, 2014, members of the Edmonds College softball team volunteered their time at Seattle Children's Hospital. While visiting the hospital, the Triton student-athletes were involved in arts and crafts, and played sports with the children – especially games of tag.
"Our mission for Edmonds College Softball is to impact the lives of every individual we meet," said head coach Shawna Juarez. "Today our lives were definitely impacted, and we will carry this memory with us forever. The Edmonds College group felt very honored and humbled to be involved in this life changing experience, and plans to visit the hospital many more times this year."
---
Juarez Hired as Softball Head Coach
Edmonds College announced the hiring of Shawna Juarez as it's new softball head coach. Juarez, who played in the NWAACC, will take over the program for the 2014 season. Full Story>>
TOP