Patient Care Technician/Emergency Room Technician Certificate
A Patient Care Technician (PCT) is a highly trusted professional and a vital part of the healthcare system. A PCT can have a direct impact on people's lives and health. Careers as a PCT offer diverse opportunities and excellent earning potential. PCTs work under the direct supervision of a registered nurse and are trained to perform a variety of tasks, including:

Basic clinical skills
Patient hygiene
Vital signs
Blood collection
EKG's
Upon completion of the Patient Care Technician program, you would be qualified for jobs in the following areas:
Nursing Assistant/Acute Care Nursing Assistant
Patient Care Technician/Emergency Room Technician
Electrocardiography (EKG) Technician/Cardiac Monitor Technician
Phlebotomy Technician
Graduates of the Patient Care Technician Certificate at Edmonds leave our program with extensive classroom and skills lab training and hands-on experience in a healthcare simulation setting. There is tremendous demand for PCTs, and graduates are able to find employment in this field quickly!
Career Outlook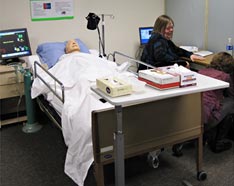 According to the Bureau of Labor Statistics (bls.gov) employment of Nursing Assistants nationally is projected to grow 5% percent from 2021 to 2031, about average for all occupations. Because of the growing elderly population, many nursing assistants and orderlies will be needed in long-term care facilities.
The Washington State Employment Security Department (esd.wa.gov) projects the average annual growth rate of 2.4% from 2020 through 2030 for Nursing Assistants in Snohomish County and 2.0% in Seattle-King County. Pay varies by experience, employer, and locality.
Academic Planning
The Patient Care/Emergency Room Technician requires a minimum of 44 credits as outlined OR a minimum of 36 credits with documentation of a valid CNA license in Washington state which eliminates the requirement of AHE 162 and 164 and typically takes four quarters to finish. Here is a recommended academic plan if you are beginning in the fall quarter (September). If you are beginning at a different time of the year, please contact an advisor to assist with your academic plan.
Prerequsites
| Course | Title | Credits |
| --- | --- | --- |
| AHE 110 | Human Body | 5 |
| AHE 115 | Basic Life Support/CPR | 1 |
| AHE 116 | Intro to Health Care | 4 |
| HCA 104 | Medical Terminology | 3 |
Program requirements
| Course | Title | Credits |
| --- | --- | --- |
| AHE 112 | EKG/Cardiac Monitoring/Telemetry | 5 |
| AHE 132 | Emergancy Room Technician | 5 |
| NURS 101 | Certified Nursing Assistant: Basic Patient Care | 3 |
| NURS 102 | Certified Nursing Assistant: Basic Skills lab | 2 |
| NURS 103 | Certified Nursing Assistant: Clinical Externship | 2 |
| NURS 104 | Acute Care Nursing Assistant | 2 |
| NURS 105 | Acute Care Nursing Assistant: Lab | 1 |
| NURS 106 | Acute Care Nursing Assistant Externship | 1 |
| AHE 141 or AHE 148 | Phlebotomy Technician or Clinical Lab Assistant Fundamentals | 5 |
Clinical Experiences/Externship Requirements
Participation in a clinical experience requires proof of vaccination for common infectious diseases, including influenza and COVID-19. The Clinical Passport outlines the immunization requirements. Please download a copy and keep it in a safe place. The CPNW-Clinical Passport Tutorial provides an overview of each section of the document and will take about 30 minutes to complete. If you have additional questions after completing the tutorial, please contact an Allied Health faculty advisor.
Background checks are also required to participate in clinical externships and must be completed before registering for a clinical externship class. The DSHS Secretary provides a list of Disqualifying Crimes and Negative Actions. If you have any concerns, please contact an Allied Faculty advisor.
All immunization and criminal background checks for allied health programs go through our online databank system CastleBranch. To place an order, enter package code EE78. The cost is $96.
Clinical Site List
Advising
For program information and questions please contact our Patient Care/Emergency Room Technician program advisors:
Terri Glazewski | terri.glazewski@edmonds.edu | 425 640 1691
Erika Ferreri | erika.ferreri@edmonds.edu | 425 640 1924
Brent Leithauser | brent.leithauser@edmonds.edu | 425 640 1369
Next steps: Certificates, AAS-T, and BAS degrees
Students who want to continue their studies in healthcare may apply the Patient Care Technician coursework towards additional Allied Health certificates, our Allied Health associate degree, and our Integrated Healthcare Management Bachelor of Applied Science degree:
Patient Care / Emergency Room Technician graduates interested in the next steps along the nursing pathway should consider the following certificates and degrees:
Practical Nursing Certificate
While your CNA coursework may not be directly applied to the Practical Nursing Certificate, extra consideration will be given to applicants with a valid CNA certificate/license, MA certificate/license, or military medical corps experience.
Associate in Pre-Nursing - Direct Transfer Agreement (DTA/MRP)
This degree is designed for students who plan to transfer to Bachelor of Science in Nursing programs at the University of Washington, Washington State University, Northwest University, Seattle University, Seattle Pacific University, Pacific Lutheran University, Walla Walla University, and the Washington State University Intercollegiate College of Nursing (WSU-ICN) whose members include Eastern Washington University, Gonzaga University, and Whitworth University.
TOP