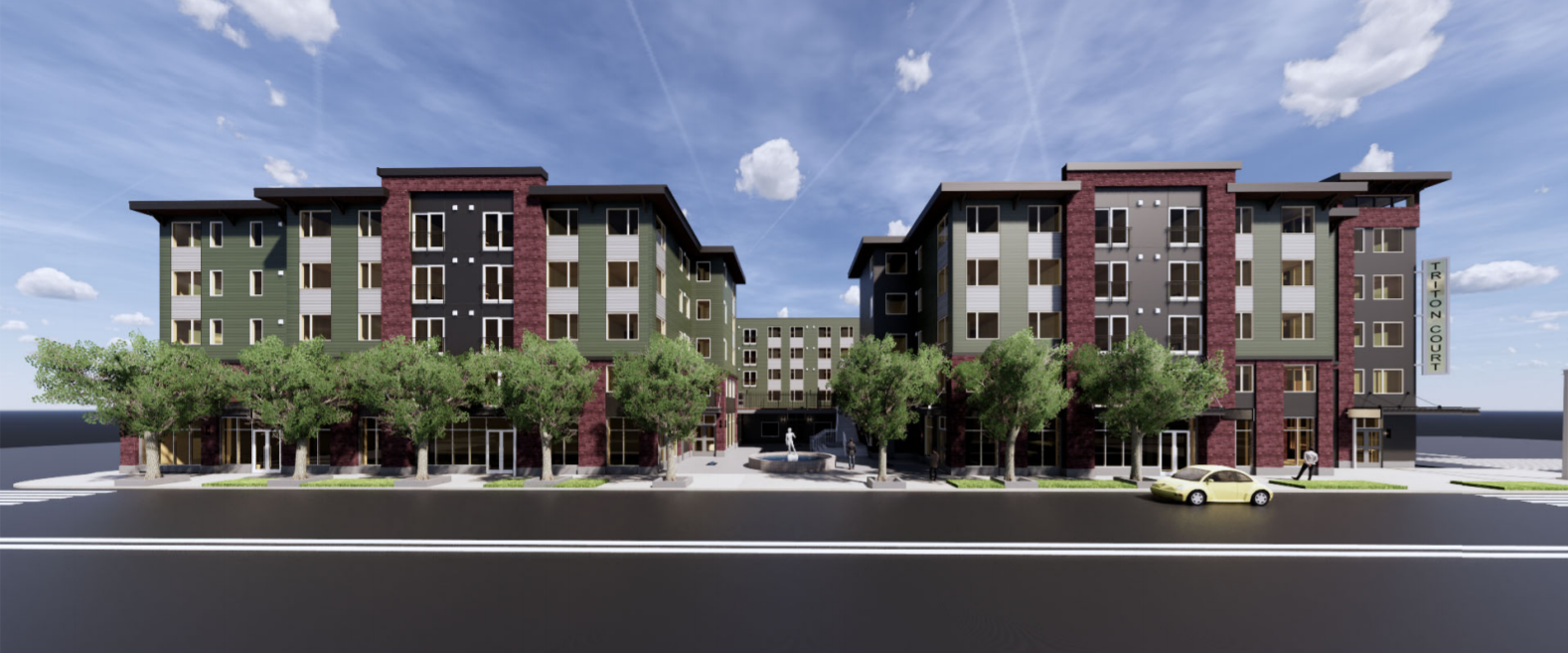 Triton Court
Opened Fall 2020
Triton Court is for Edmonds College and CWU students ages 16 and older who want to live in a community focused on student living.
Residence Hall Features
Studios (an apartment that has one main room used for the kitchen, living room, and bedroom), two, and three-bedroom units
Laundry rooms on each floor
Small study areas on each floor
Units with furniture, full kitchen and living room
ADA accessible units (one fully accessible ADA apartment plus four partial ADA apartments, one per floor)
Residential Lounge on second floor with pool table, and large screen TV
Resident Assistants
Limited wireless internet access
Alcohol and drug-free environment (including medical marijuana)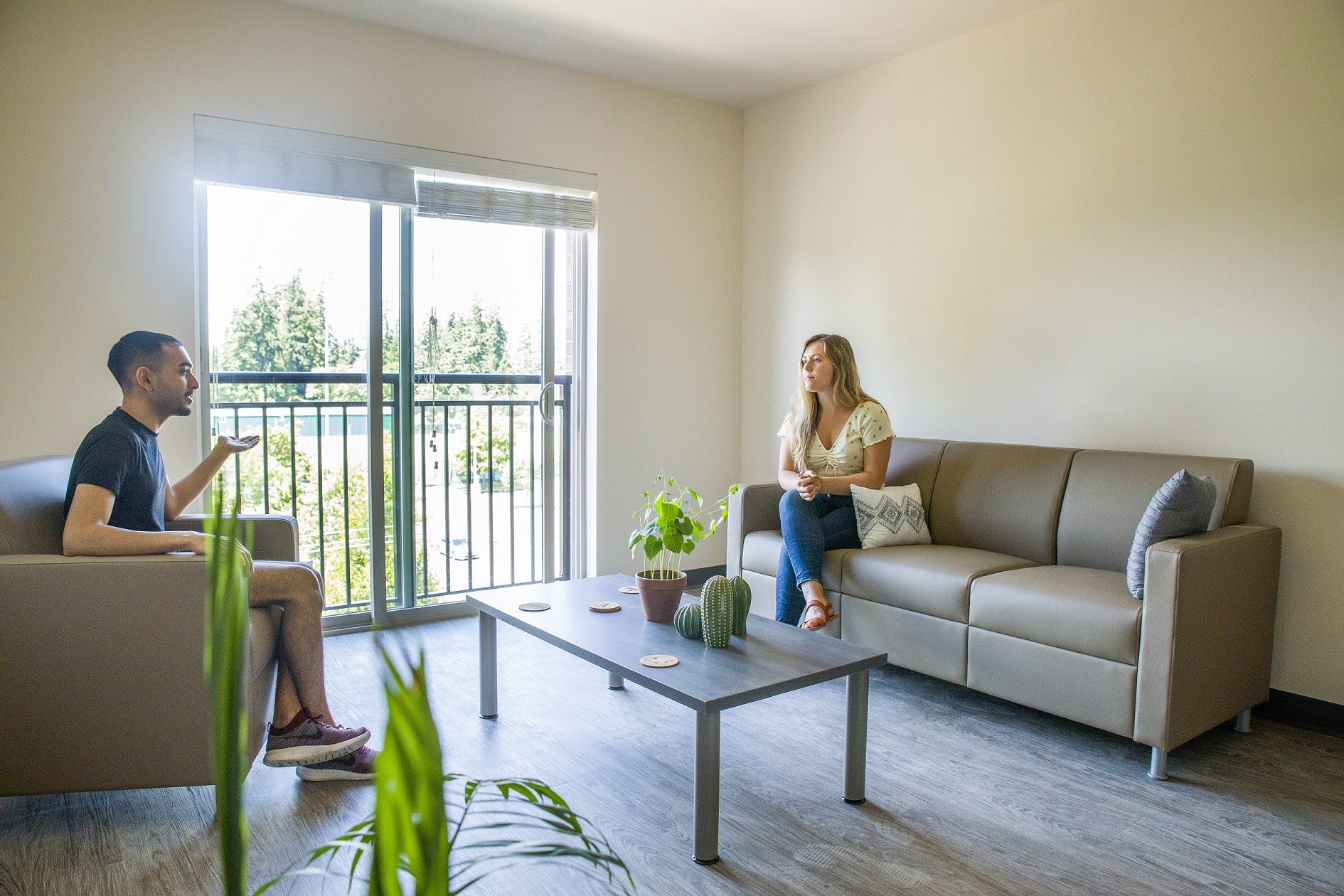 Apartment types: Rates, floor plans, and videos
---
Rent amount per quarter – included with rent: utilities, parking, limited internet, furniture, student lounge, and 24-hour staff support. (It does not include phone, food, and dishes)
The pricing shown for each apartment type is based on a four-quarter lease term. Three quarter lease terms are available with an additional $100/quarter premium fee.
Rent is paid on a quarterly schedule. All prices listed are per person.
Fees
Application fee: $275 (it is non-refundable, unless we do not provide space)
Airport pick-up fee: $100 for all airport pick up dates
Non-Refundable Cleaning Fee:$200 (once during move-in)
Refundable Damage Deposit:$200 (once during move-in)
Activity Fee: $25 (once each quarter)
Benefits Of Living On Campus
A safer and cleaner living environment
Free parking
Close to college resources (i.e. library, gym, Center for Student Engagement & Leadership)
Fully furnished apartment
Private bedrooms
Live with a friend or meet new people from around the world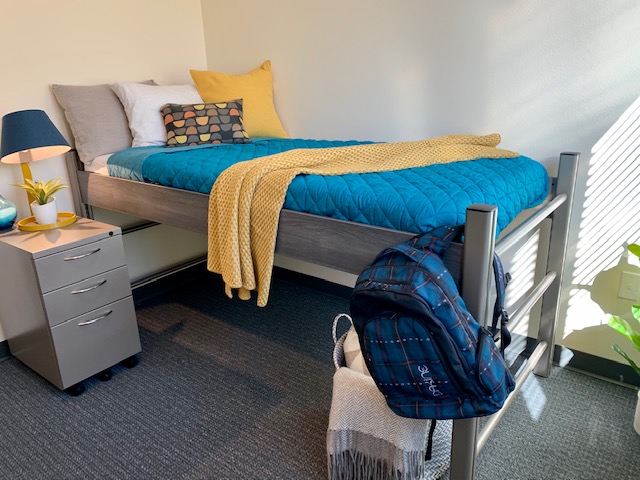 Housing Policies
Quiet hours - 10 p.m.-10 a.m. Sun.-Thurs.; midnight-10 a.m. Fri./Sat.
Guest policy - no more than three consecutive overnights per guest
Do not let strangers into the building (they must have a fob/key and enter on their own)
Alcohol and drug-free building — no alcohol or drugs allowed for any students in the building
No smoking in apartments
Students should keep their apartments clean (cleaning daily and/or weekly on their own)
No pets of any kind are allowed
The college may remove a student, with only 24 hours notice, if they do not follow these policies
Who enforces the policies? Check out our Resident Assistants
See the Residence Hall Handbook for all policies as presented at an orientation
Questions about Housing?
A staff member within the department would be happy to talk with you.
TOP