Student Emergency Assistance Grant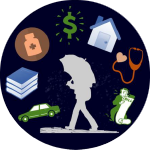 If you're at risk of dropping out due to unexpected financial emergencies, our grant can help.
Eligibility Requirements
Student must be enrolled in at least one class at Edmonds College
Emergency funds cannot be used for tuition, tuition-related fees, or past debt
Students can request up to $2,000 per academic year (summer-fall)
Each funding request must be for a new emergency
Eligible Expenses
Types of expenses covered include: transportation, car repairs, rental assistance, short-term emergency housing, child-related expenses, utilities, groceries, and more.
Please only request the minimum amount you need to resolve your emergency. If we are unable to meet your request by at least 80%, the application will be denied.
Criteria for Approval
Funds are limited and are available until funding is exhausted. After completing an application, a program coordinator will reach out to you via phone or email to explore possible resources for your situation.
Emergency grants do not need to be paid back. All emergency funds are reported to the Financial Aid office and may affect need when calculating eligibility and the amount of the award. Funding is not guaranteed. If we are unable to assist you with an award, we will refer you to other resources as available.
Contact Us
TOP