Office of International Programs
---
University Transfer Program for international students
Transfer Advising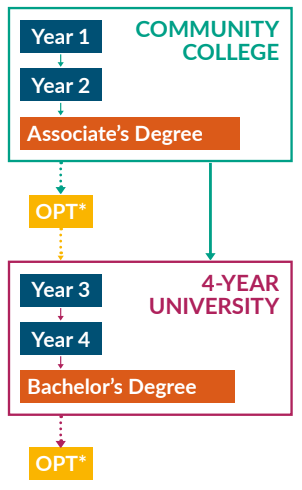 Edmonds College can prepare you to transfer to a four-year university in any major while studying in the Seattle area. Earn the first two years of your bachelor's degree and then transfer to a university anywhere in the U.S. to complete the last two years.


Why start at a 2 year college?
Affordable tuition and open admission process while studying in the Seattle area..
Receive a university admission letter with your Edmonds admission letter.
One on one academic advising for graduation preparation.
Smaller class sizes allow for closer interaction with professors and classmates.




University Acceptance and Transfer Agreements
The two-year associate's degree in arts or sciences will usually transfer to any university in the United States. In order to assure that the university will accept all of the credits in the associate's degree, Edmonds College makes transfer and articulation agreements with specific universities. Edmonds College has transfer agreements to accept the associate's degree with all of the state public universities in Washington State, including the Central Washington University, Eastern Washington University, Evergreen State College, University of Washington, Washington State University, and Western Washington University.
Guaranteed Conditional Acceptance
International students may receive guaranteed conditional acceptance to a university upon admission to Edmonds College. Guaranteed conditional acceptance is granted to students who meet the conditions of the accepting university, which include completion of the associate's degree with a minimum grade point average (GPA). Each university has its own GPA minimum requirements.
The following universities guarantee admission of Edmonds College international students upon completion of the associate's degree and meeting the GPA and admission requirements:
*Uses the term "provisional admission" rather than "conditional admission".
To receive a letter of conditional guaranteed acceptance, indicate on your application the university from which you would like to receive a letter from the list above. Edmonds College will add new universities to the list of participating institutions, so please check the list immediately before applying.
University Transfer Agreements
Edmonds College has articulation agreements to accept all the credits of the associate degree, with many U.S. universities, including:
Transfer Pathway
International students have the opportunity to transfer to top universities upon admission to Edmonds College. International students still have to complete the admission conditions and GPA requirements of the accepting university.
The following universities provide a letter of invitation for transfer:
Top University Transfer Locations
Edmonds College international students have transferred to highly ranked universities, such as:
and many other highly ranked universities to successfully earn their bachelor's degree.