Partnership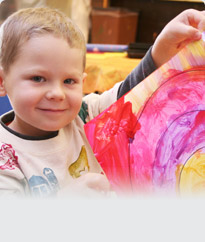 Partnership is the core of our relationship with parents. Through their partnerships with Head Start/ECEAP and Early Head Start, parents increase and strengthen skills in advocating for themselves, their children, their families, and their neighborhoods. Parents have opportunities to partner with Head Start/ECEAP and Early Head Start on several levels:
Working with their Teacher or Parent Mentor on their child's learning plan that reflects their child's individual development and learning strengths and needs.
Working with their Parent Services Specialist or Parent Mentor on developing and achieving their family goals.
Working with each other and with staff as members of Center Leadership Committee, providing ideas and activities for their child's classroom or group socialization and ideas for experiences and trainings for themselves.
Working with management as members of Leadership Council, reviewing and taking action on service and hiring recommendations, fiscal plans, policies and protocols; evaluating services, and helping interview candidates for job openings.
Working with other Head Start, Early Head Start and ECEAP programs through participation in the Washington State Association of Head Start and ECEAP.
TOP