Go above and beyond: Make the most of your college life!
09/08/2011
There are many opportunities to make the most of your experience at Edmonds College. Edmonds CC offers the full-range of college life including an Honors program, lecture series, undergraduate research projects, study abroad, service-learning activities, student clubs, student publications, performance opportunities, and athletics. Join in. Explore. Dream big, and enjoy your time in college!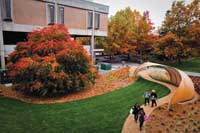 Edmonds College offers the full-range of college life.
Did you know? Students can:
To schedule a campus tour, call 425.640.1000.
Find out more
TOP