Diversity Studies
Prepare to take your place in today's diverse, multicultural environment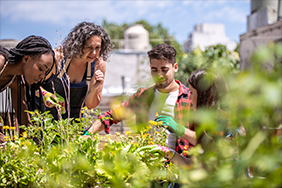 Courses in diversity studies examine core concepts related to difference, identity, and belonging. You will explore contemporary and historical relationships of power and social change as well as connections between race, ethnicity, gender, sexuality, environment, social class, and religion. Classes are interdisciplinary and emphasize hands-on learning.
Through collaboration, service, and research, you will have the opportunity to:
Work and communicate effectively in diverse groups and community settings
Develop awareness of the impacts of social inequities on individuals, communities, and societies
Evaluate and participate in social change strategies
Program
*Average costs include tuition based on WA state resident full-time enrollment. It does not include fees. The costs may vary. Learn more about Tuition & Fees.
Career Opportunities
Considering enrolling at Edmonds?
Your Edmonds College advisor will work with you to choose the right path for your future career, help you register for classes, answer questions about paying for college, and more.
TOP