Black Box Theatre Rentals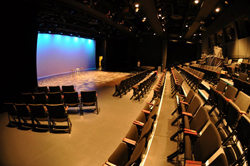 The Black Box Theatre is a one-of-a-kind performance venue in South Snohomish County. This beautifully designed, flexible seat facility is the ideal space for plays, concerts, dance performances, film screenings, community events, and seminars.
Services & Features
Expert customer service and professional technical staff

Seats 152-184 depending on configuration

Large stage area (30' x 24') with sprung floors and generous wing space

Raked seating with comfortable chairs

Film quality projection on a 40'x18' screen

In-house lighting, sound, and video systems

Comfortable dressing rooms and green room

Full-service box office and ticketing services

Free parking
Rates: The base rate for renting the Black Box Theatre is $590. The Black Box facility rents for $135 per hour for each additional hour, up to 8 hours. The base rate includes fees, limited staffing, and the Edmonds College booking fee. The base rate includes the facility without any alterations, access to rep lighting plot without alteration, basic sound setup, two onsite theater staff to manage the front-of-house logistics and onstage technical needs, and placement on our events calendar.
Contact: Please complete an Event Request Form and email scheduling@edmonds.edu. Someone will contact you within five business days about availability. We are not accepting reservations for fall 2023.
Follow us on Facebook
TOP