Classrooms and Meeting Rooms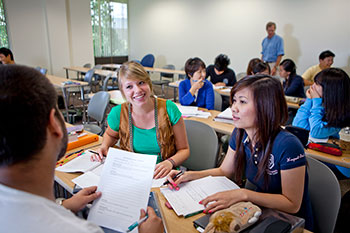 We have 65 general-purpose classrooms, 100 percent mediated with doc cam and computer available to rent (additional fees apply). We offer competitive rates that are lower than most other locations. As an educational facility, we focus on students but offer space to rent to the general public. We cannot provide facilities set up except where specified. You are responsible for setting up and tearing down the space.
Please complete an Event Request form and email it to scheduling@edmonds.edu. Please allow five business days for a response. Note: We request reservations be made at least four weeks in advance of your event date. For more information please see Renters Guidelines.

Cancellation policy: Room reservation cancellations shall be sent to the Scheduling Office at scheduling@edmonds.edu with at least 48 hours' notice before the event. The request shall include the date, time, and reservation number of the event to be canceled. The party canceling the event shall also notify the Security Department at 425.754.0154 of the cancelation if the scheduling office is closed. Reservations canceled with at least 48 hours' notice shall have their room rental fee returned, less a $30 cancellation fee. The entire room rental fee shall be forfeited if notification is given within 48 hours notice.
Contact: scheduling@edmonds.edu for more information, or call: 425.640.1781.
(Scheduling Office Hours: Mon.-Thurs. 8 a.m.-12 p.m.)
TOP