Food Truck Program
Learn Essential Culinary and Business Skills
Our food truck program and training give students real-world experience working on our food truck, the Triton Taste. Students have opportunities to hone their craft by working on-campus, in the community, and at events.
Programs
Both of our certificate programs start by teaching students the basics of commercial cooking in kitchens and then move on to food truck operations. Students may count coursework from the certificates toward an associate degree, and students earning an associate degree can count coursework toward a certificate. Contact us to learn more.
*Average costs include tuition based on WA state resident full-time enrollment. It does not include fees. The costs may vary. Learn more about Tuition & Fees.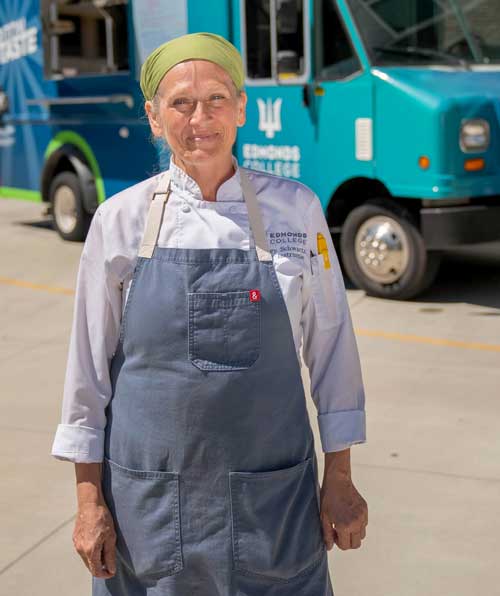 As an instructor, I am really excited about this food truck program opportunity for students. It gives them real-world experience in the food truck scene and enables them to see a viable option for starting their own business. This program allows students to gain skills on a food truck but also learn about marketing through social media and creating a business plan. I absolutely love how excited students are to be on the truck and to dream about what they would do with their own. I enjoy seeing their unique food truck ideas and encouraging them to pursue this entrepreneurial path. After completing the program, students should be able to articulate through a business plan what their business would look like and how to achieve it!
—Stacey Schwartz, Edmonds College Culinary Arts Instructor
Career Opportunities
Considering enrolling at Edmonds?
Your Edmonds College advisor will work with you to choose the right path for your future career, help you register for classes, answer questions about paying for college, and more.
TOP